Are you gluing pennies to your kid's shoes? This may sound weird and even confusing. But a lot of parents are following the trend of gluing pennies to their kid's shoes. And the reasons for this exciting thing are brilliant.
If you are unfamiliar with this project, it was started by a mother who had an ingenious idea. Back in 2014, one clever mom decided to stick pennies to the bottom of her kid's shoe as the kid loved making noise with the shoes. The post did not generate a lot of noise when she put up the tweet. But it has since been taken up by many parents all across the globe.
The internet is a constant pool of hacks and DIY. It is safe to say that some are more useful than others. However, after you learn about the reasons as well as the benefits of this project, you will love trying it out for yourself.
Today we discuss the reasons why gluing pennies to kids' shoes is a fantastic DIY.
Let's begin.
Reasons why parents glue pennies to kids' shoes.
A growing number of parents glue pennies to the bottom of their kids' shoes, but it is not just to allow them to make noise. There are several reasons behind this. We take an in-depth look at them below.
An alternative to dancing shoes. 
Parents who are gluing pennies to their kids' shoes use this method to make tap-dancing shoes. The pennies are glued at the bottom of the shoes, both below the heel and the toe area.
This makes the shoe produce a lot of noise, especially on hardwood floors. Of course, it will not be as fancy as a tap dance shoe that you buy from the store. Your kid may also not be able to wear the shoes with pennies for a recital.
But it makes a fantastic option for practicing. And you don't have to worry about the shoes getting all scruffy as you can simply replace the pennies when they fall out!
To make a tap-dancing shoe for your kid, follow the steps below –
Bring a pair of shoes. Any type of shoes can be used, but those with rubber soles are best.
Next, clean the bottom of the shoes thoroughly using a brush. You can also use water and soap. But if you do, make sure to dry it thoroughly.
Collect some pennies. Usually, nine to ten pennies should suffice for this project.
Use any type of glue or a glue gun and glue four pennies at the heel of the shoe and five in the toe area. Using a glue gun has an added advantage as you can remove the pennies later on. Just in case the dancer decides to give up on one of his or her many dreams, you can use the shoes again.
Allow it to dry overnight, and your kid has a new dancing shoe!
To watch a tutorial, you can click this link.
Save your pennies, literally.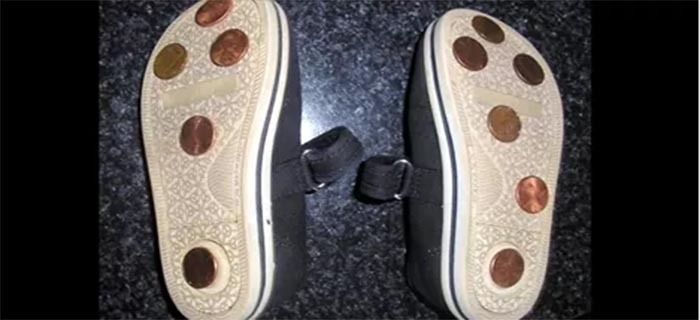 Almost every parent can agree that dancing shoes do not come cheap. At least not the ones that are of good quality. A pair of basic tap dancing shoes can cost more than $30, while top-quality ones can cost as much as $140. Since tap dancing shoes are not known for their lasting quality, buying tap dancing shoes in one academic year can add up to a significant amount.
To find a solution to this, some parents are gluing pennies to kids' shoes. Since you are using a pair of shoes that you already have, you do not have to spend any money.
This is also a way to make use of loose change. In many parts of the US, pennies are not used anymore, which is a sad fact. So this is a creative way to repurpose them.
Pennies for Entertainment.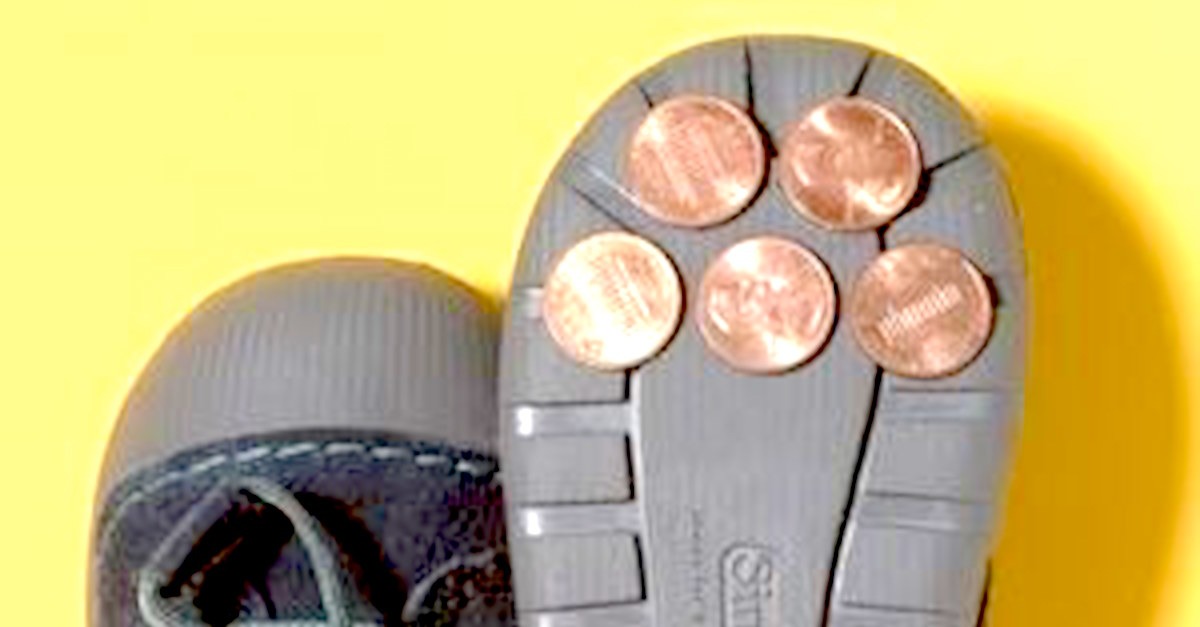 Pennies for Entertainment is a trick that many parents in the UK employ. Gluing pennies in the kids' shoes keeps the children entertained and occupied when they get restless. Kids love the noise that their shoes produce, which keeps them amused, so you don't have to keep running after them.
Another excellent way the pennies help the kids and their parents is while getting ready for school. Most kids can become fussy during this time, which is a nightmare for the parents. When they have pennies in their shoes, the noise is an excellent source of Entertainment, which the kids will love producing more and more. Getting them out of bed and keeping them moving while getting ready for school will no longer be a struggle.
Fun fact: Did you know that Pennies for Entertainment is very popular in Plymouth, UK? Parents on this side of the world use this trick to calm restless kids.
Solution for big feet.
For people blessed with generous feet, finding shoes that fit can be a considerable challenge. And finding that perfect pair of dancing shoes can be harder. Kids with larger feet can also wear out their shoes more quickly. There are other reasons that affective the lifespan of a dancing shoe, of course.
So gluing pennies to a shoe that already fits is an effortless and cheap way to dance your way into stardom. Since you are already using an older shoe such as a sneaker that fits well, sizing and pricing will no longer be an issue.
Fulfill dreams without spending a fortune. 
Everyone understands that growing children have dreams of being everything they dream about. While this is an excellent indicator that your child has big dreams, it can come at the expense of your wallet. As parents, we want to give everything to our children, but their ambitions and goals can also be very fickle while growing up.
A younger kid might want to emulate an older sibling who is serious about dancing. Some kids may be too young even to attend dance classes. Still, another kid might give up his grand dreams of becoming a tap dancer after a week into it.
In such cases, this hack of gluing pennies to their shoes can fulfill their dreams. You can take care of all their dreams without spending a good amount of money on their classes and shoes. This is a great way to foster the creativity and the talents of your children and encourage them to try their hands on dancing.
You can, of course, upgrade your kids dancing shoes if they are serious about the prospects of becoming a dancer.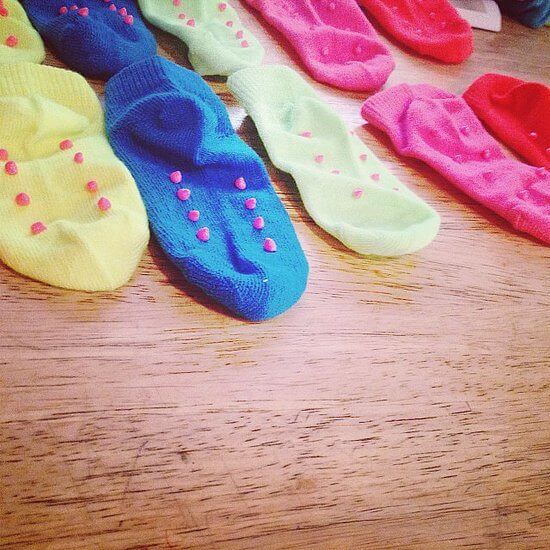 Keep track of your toddler. 
Toddlers are among the most restless group of kids. It takes patience and stamina to keep running after them all throughout the day. They are also grandmasters playing hide and seek all around the house.
When you glue pennies to a toddler's shoe, there is nowhere a toddler can hide that you cannot find. He or she will be making a lot of noise wherever they go, so it becomes easy to keep track of them.
An added advantage is that your precious toddler is guaranteed to have a lot of fun every time they put on their special pair of shoes.
Adding fun to a kid's life.
What parent doesn't desire to make their kid's life fun and full of joy? It is a dream as well as a responsibility for every parent to provide every opportunity to add fun to their children's life. And if you can do it easily without much effort and spending a lot of money, why not give it a try? This is even though you are willing to give an arm and a leg for your child's happiness.
Taking a handful of pennies and adding them to your kid's shoe is a sure way to get them excited. Playing and running around is a favorite pastime of every child. So when their shoes make a lot of tapping and clicking noise when they are playing, it will bring lots of laughter and smiles.
Final words.
There is a reason why a growing number of parents are gluing pennies to their kid's shoes. It is a fantastic way to test their skills at tap dancing and whether they are serious about pursuing it.
It also fulfills the purpose of preventing a heartbreak of a young child that may be too young to go to a class. It adds a lot of fun into a child's life in the process, which is the supreme thing you can do for a child as a parent.
Gluing pennies to a child's shoe is effortless and can be quickly done at home by anyone. You don't need special tools or have extraordinary skills to do it. It can be done by collecting a few items that are available in almost every home.
So try out this project for yourself and see how much fun you have with it. Your kid will love it too. You might even become a superstar in their eyes if you are not one yet.