Your work boots are essential because they contribute to your overall productivity and performance of your job. While most workers may opt to go for the cheapest option, you should take your time is selecting work boots that suit your needs, and this wedge v sheep work boots article will help you in this task.
When shopping for a pair of boots, you will often find work boots with two types of soles, the wedge sole, and the standard heel sole. While both are constructed to keep you comfortable and safe in your workplace, each has its unique benefits. So for you to know which sole is best for you, you need to know how these two soles are different.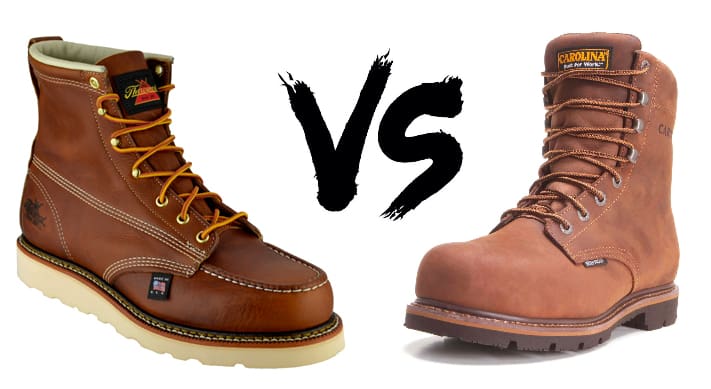 Differences between wedge sole and heelwork boots
Wedge vs. heel work boots: How do they differ?
Stability
The design of the wedge sole work boots makes them ideal if your work is around concrete, paving, or ironwork. They provide better stability than heel work boots, and this makes them an excellent option if your job involves a lot of walking and standing.
Traction
While wedge work boots provide stability when walking, heel work boots provide excellent traction, especially if you work in uneven terrain. The gaps between the sole lugs and the raised heel give you the right amount of grip so that you remain stable even on softer surfaces.
Safety
If you work in an environment that is full of hazards that you can trip over, wedge work boots are the best option for you. The sole treads and the large sole surface that comes into contact with the surface will not get your shoes entangled to small items on the ground or surface floor. This makes you safer when working in such an environment. On the other hand, the gap between the heel and the rest of the heel work boots can easily get entangled to hazards as you walk and may cause you to trip or slip.
Climbing steep places and ladders
Apart from providing a good grip on uneven surfaces, you can also use heel work boots when carrying out indoor work. The heeled design will be beneficial when you're working with ladders as you can lock your heel in place when climbing up and down the ladder, unlike the flat sole of the wedge that can't provide you with a secure grip on the ladder. The heel will also hold your feet in place on narrow surfaces when you're working so that you don't slip and fall.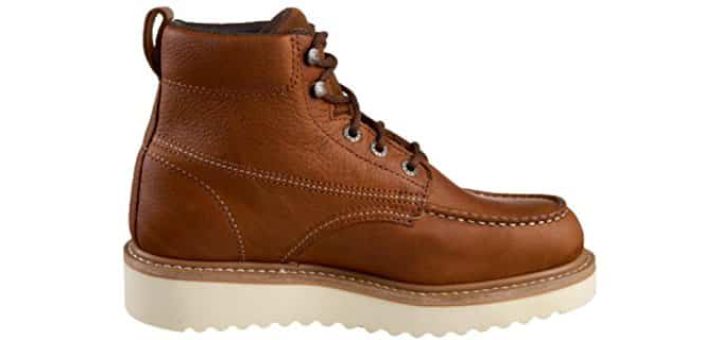 A wedge sole work boot is a shoe that is specifically designed for construction workers, ironworkers, and other workers who work hard and uneven to provide you with added support and stability that you need. These shoes are trendy because they come with all the benefits of safety shoes in addition to added comfort and support that can't be found in other safety shoes. A wedge sole work boot has a wedge-shaped rubber cushion that runs from the toe to the heel at an elevated angle. The entire outsole of these shoes touches the ground, unlike that of the heel sole work boots. The wedge sole is made of polyurethane that is great for slip, heat, and oil resistance. It' durable and provides added traction on slippery surfaces and comfort.
Pros
The wedge design keeps the boots securely in contact with the ground at all times
The sole is made with a durable type of rubber that can resist heat and oil
The sole reduces your risk of slipping and falling thanks to its excellent grip
The boots are more comfortable because the pressure is evenly distributed throughout your feet
They're designed to be lightweight than the heeled sole work boots
Cons
They don't provide the same level of durability as the heel sole boots
The treads of the sole avoid messes, but sacrifices on traction. They don't provide enough traction on wet surfaces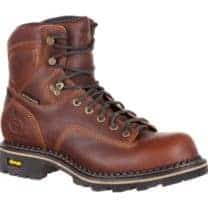 Boots with a traditional heel have been used for centuries among blue-collar workers in the early 20th C. These boots are characterized by a thick sole and a stacked heel. They're versatile and beneficial in that they add you more height. The sole can either be made of wood, cork, or rubber with a different design than the wedge sole. The front part of the sole is designed in a way that it stays in contact with the ground, which provides grip to the boots and bears most of the pressure. It also provides control over the balls of your feet. The middle part doesn't come in contact with the ground while the heel has a high platform which provides some arch support.
Pros
They're versatile, so they are available in different designs
The heel design provides better traction on uneven surfaces and steep inclines
They help you in securing your feet when climbing ladders
A raised heel will help in reducing your back and knee pain
Cons
You can easily trip over things on the ground
They can be quite heavy
Conclusion
In the wedge vs. heel work boots comparison, both types of boots are designed for different work environments and purposes, so they both have something unique to bring to the table. So it all comes down to which shoes suit your needs.
FAQ
Are wedges harder to walk in than heels?
If you can't decide between wedges and heels, wedges are chic and comfortable and go with almost anything, but heels are easier to walk in if the heel is thicker.
Are boots bad for your feet?
Boots that are too narrow can cause bunions, which can lead to your feet getting deformed. Although steel toe work boots are said to hurt your feet, poor-fitting boots do that.
Are wedge work boots more comfortable?
They're more comfortable because the pressure is evenly dispersed throughout your feet. The contoured design reduces the impact on opposite surfaces like concrete.
Why do work boots have a heel?
A perfect work boot should follow the shape of your foot, and when you stand, your heel, outside arch, ball of your feet, and toes should all support your weight.