Everyone desires to own at least one pair of Toms, if not, its alternatives must be in the closet. Toms are one of a kind as they are grab-and-go and easy to slip on and off. But if you're hunting for an affordable option, then Toms shoe alternatives are the best choice. 
Apart from the hassle-free design, simple and lightweight canvas fabric, the alternatives provide adequate ventilation even on the hottest days. The secure ventilation system ensures that your feet don't get sweaty under the scorching heat. 
Toms produce some amazing quality footwear, but if it's not your day to shop, you may want to look for alternatives, which isn't a bad idea as well! 
If you are convinced to buy Toms's dupes, then read the buying guide till the end. As it will update you about the latest fashion trends and will also help you choose which alternative is perfect for you. We'll be discussing the following stylish footwear alternatives of Toms:
Fereshte Women's Men's Casual Shoes

Women's Canvas Shoes Slip-On Ballet Flats

Alexis Leroy Women's Traditional Flat Stripe

Circus By Sam Edelman Women's Leni-3 Moccasin

Ellos Women's Wide Width Espadrille Flats
Reviews for Toms Alternatives
Toms dupes should be as simple as the original ones. You'll find plenty of styles in the alternatives as well like slip-on, tieless sneakers, espadrilles, etc. Below we have mentioned the top 5 picks to help you make a wise decision:
Fereshte Women's Men's Casual Shoes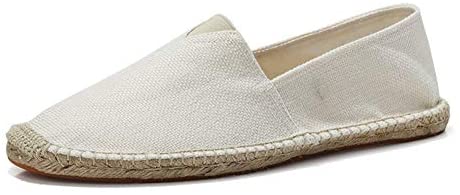 Are you looking for the perfect pair of shoes to get rid of sweaty feet? Then these affordable espadrilles are designed for you! They will keep your feet cool and dry throughout the day. It comes in multiple sizes and colors, if you don't wish to stick with basics, then pick from the other 9 color schemes. 
The anti-slip sole doesn't only keep you from slipping but doesn't make noise while walking too. The handmade design puts an end to the beautiful craftsmanship! Overall these espadrilles are the best pick in the casual shoe category
Product Features/ Benefits
Colors choices – up to 10 colors available
The material used – canvas, rubber, and other manmade material
Insole – Natural flax that massages the foot
Outsole – The rubber sole is flexible that guarantees durability
Safety– Elastic belt doesn't let the shoes slip off and ensures coziness all day long
The cap of toe: Cap of the toe is handmade of woven linen that makes the shoes breathable and comfortable to slide on and off
Product Cons
Doesn't run true to its size
The heel back is short
Not a lot of arch support
Women's Canvas Shoes Slip-On Ballet Flats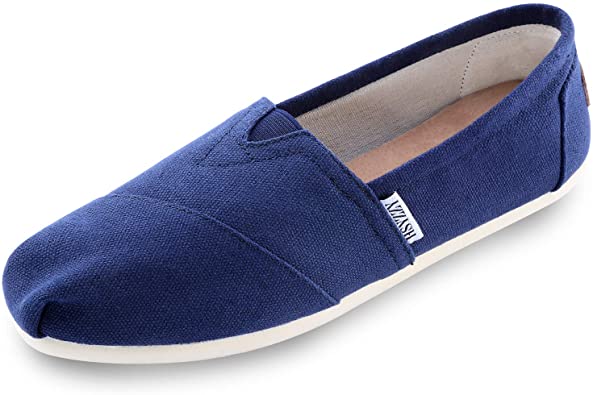 Ballet flats from any brand, never go out of style. They are stylish yet comfortable to wear all day long. These shoes are great for traveling within an affordable range. Whether you wear a skirt or pants, slip-on ballet flats go perfectly with every outfit. 
The high-quality features along with safety are what these shoes have. Appropriate cushioning around the corners don't leave blisters as well. Plus, they are roomy enough to keep your feet sweat-free.
Product Features/ Benefits
Sizes – 5 to 12
Colors – 6 colors available
Insole – Non-slip rubber that keeps your feet relaxed all day long
Upper – Lightweight and canvas with EVA anti-slip sole
Helpful Design– People with high instep can easily wear these shoes due to the elastic V- design
Perfect for multiple places – Perfect for every woman, either they want to walk around work in the office, take long walks or go jogging.
Product Cons
Little to no support
Not great for trekking or for standing long hours
Alexis Leroy Women's Traditional Flat Stripe
Fan of espadrilles? Perfect! This is exactly what you need. Alexis Leroy is among the top renowned fashion brands originating from France and has made products with a perfect blend of style and comfort. And, the espadrille is a great example! 
With the perfect combination of design and art, the stripes bring life to the shoes like toms that are affordable, making them perfect to wear with many outfits. The concept of this product was to promote a waste-free environment and enhance the culture of handmade products
Product Features/ Benefits
Sizes –6 to 9.5
Color – 4-colors available
Material – Canvas, cotton, and a woven sole
Upper sole – Beautiful designed and perfectly customized canvas upper that enables flexibility
Easy Slip-on-shoe – Slip-on-sole and the woven bottom that know them stylish casual pairs. The Elastic gusset panel works make it comfy and easy to wear on and off
Design – The richly textured and striped cotton pattern makes them look outstanding
Product Cons
The colors are not the same as pictures
Feels small and tight at first
Circus By Sam Edelman Women's Leni-3 Moccasin
You cannot deny the fact that these shoes are super cute. Whoever buys these, will fit perfectly in them! The incredible breathable system not only ensures that you have a good time walking around with them but it also keeps the feet odorless. 
It comes in a basic fawn color that goes well with any outfit. Additionally, the emoji detailing is so cute that even teenage girls can wear them.
Product Features / Benefits
Size – 5 to 9.5
Color – ivory or jute
Slip-on-style – easy to wear and take off
Durable – 100% fabric makes the pair durable and long-lasting
Perfect for – Ideal for walking in the house, jogging, casual use, or travel purposes
Product Cons
Doesn't have a variety of colors
Ellos Women's Wide Width Espadrille Flats
Putting an end to our list with Ellos Women's Wide Width Espadrille Flats! Those are great for people who have wide feet and require shoes that have more room. Even plus-sized people deserve to look modern with effortless dressing! 
These giant-size flat shoes offer extensive width with a high-quality sole. Ellos believe in simplicity which is reflected in their designs and color scheme. The shoes are funky and have high-quality material as well.
Product Features/ Benefits
Size – 7 to 12
Color – 4-colors are available
Fabric – Microsuede 100% polyester
Design – Braided crochet design at the top adds versatility to the shoes along with the 1-inch heel.
Perfect for – People who are plus-sized and have wider feet can opt for these shoes.
Product Cons
Doesn't run true to its size
Why Should Alternatives Be a Good Choice?
Renowned brand –

Toms is a very common brand, almost everybody owns a pair of these. They aren't unique and most of the people want something similar but without a logo, so alternatives are the best! Plus, the pair also have a well-known brand flag that shows off wherever you will go for a visit.

Comfy for a long journey –

If you're going out on a long trip, then you can wear shoes similar to toms. They are spacious, breathable, and keep your feet comfortable all day long. You can easily fit these shoes in your small hand carry as well.

Inexpensive –

Unlike Toms, these are affordable and anyone can easily buy them. Alternatives are a good choice when you don't want to spend 100's of bucks on a pair of branded shoes. So, buying good-quality alternatives will do the trick.

Trendy –

Comfort along with style is a perfect combination for shoes. Like Toms, the alternatives are trendy too. Shoes like Toms are perfect for long journeys, casual or long walks.

Sturdy –

Comfort cannot be achieved without good materials. As a result, Toms are specifically made durable to go on for a long time. And, yes they are washable, so you can easily wash them if they are dirty.
3 Reason Why Toms Are Great Travelling Shoes
Either you're running late to catch a flight or a bus, or have to walk a long way to reach your destination, alternatives a great for the following reasons:
1. Easy to Slip-On and Off
Just like Toms allows you to slip on and off easily, the alternatives also help you get through the process faster. They are suitable for visiting airports or any place where you should take off your shoes. You should determine the nature of the place and then choose the pair, wearing combat boots on such places will take forever to remove them.
2. Versatile
Toms alternatives are versatile enough to be worn on any occasion and with any outfit. There is a huge collection of canvas shoes in the market from which you can select for any event.
3. Easy To Carry And Pack
We usually pack or carry a couple of pairs of shoes in our bags. In this situation, you should think of alternatives to Toms shoes that take less space and allow you to pack more pairs.
What To Look Before Buying Shoes Like Toms
Before you decide to buy alternatives for Toms, here are few things you should keep in mind:
1. Material
The materials of the shoes must be closely related to Toms shoes. It means they must be canvas or high-quality cotton. The canvas material is used in many shoes like sneakers, loafers, or slippers making them breathable and light. Toms also use versatile leathers such as vegan leather, faux fur, nylon, suede, and even full-grain leather.
2. Fitting
Every shoe has a different fitting from another. However, one must try them on before buying. They should be comfortable and not too tight. For online purchases, you must check the reviews and the size chart, so that you order the wrong size.
3. Comfort
Comfort is a vital factor for any shoe and with that comes sole and breathability. Too loose, your shoe will slip off, too tight your feet will become sweaty. Find shoes that have better airflow and a sole with good grip.
4. Suits Your Style
Just because a pair of shoes look good, doesn't mean it is meant for you. Even if they fit perfectly, it won't matter if it doesn't match your personality and preference. Buy shoes according to the weather as well as your feet width, rather than what's trendy at the moment.
5. Affordability
Not everyone can afford everything and that's okay. There are plenty of options available that will not cost you an arm or leg. While a cheaper alternative may sound good, but it won't last long.
Related Question [FAQs]
Q1#. How Long Do TOMS Shoes Last?
There are several factors on which it depends. Firstly, how do you take off the shoes? Secondly, under what circumstances do you wear them and for how long. Thirdly; if you use them correctly and safely, they can last for more than six months.
Q2#. Should you wear socks with Toms?
Toms are low-cut and slim canvas slip-on. Wearing thick and long socks won't look good with Toms. However, the thin, breathable, and anti-bacterial no-show socks go pretty well with Toms.
Q3#. Why Do My TOMS Smell So Bad?
If your Toms are left in water for long or have moisture trapped they smell so bad. This is the only downside of the shoes that it becomes extremely smelly faster. The main cause of it is the insole that is made out of leather. They smell because most people don't wear socks with them for long hours.
Q4#. Can I Wash My Toms?
Yes, you are allowed to wash a few toms that are waterproof or water-resistant. Some of them come with waterproofing spray, especially for leather shoes. So, you don't wash all types of toms using water. You have to know the Toms shoes that you are using come with an instruction to wash, clean, and dry them.
Final Thoughts
After reading this guide you may have made up your mind to pick up shoes like toms. You can choose any of the pairs from the above list for casual use or to go on a holiday trip. Ensure that your shoes are comfortable, breathable, and look stylish with every outfit you wear. Our top picks are also not going to break your bank, so you don't have to worry about it either!