The Sanita vs. Dansko dilemma is not a new one. Both companies have an excellent reputation in the footwear industry. Their products are highly recommended to people who are on their feet most of the time during their jobs. Both of them offer exceptional quality products with almost a similar style and appearance, which is the main reason behind the dilemma. Let's look at the details of the two companies that set them apart.
The Main Features Of Sanita And Dansko Shoes
About The Companies
Sanita has been in the footwear industry for more than 100 years. It started in 1907 when Christian Andersen came up with a wooden clog. He started to sell it in the area and soon became a brand. Dansko has sold Sanita's clogs as its wholesaler under its name for about 18 years. In 2007, the companies separated and emerged as two separate companies. Dansko moved to the US and started getting its products from China, whereas, Sanita stayed where it had been since the beginning, Denmark.
If we compare the two brands based on their experience, then Sanita wins the round. They have more experience and have mastered the art of producing fantastic footwear.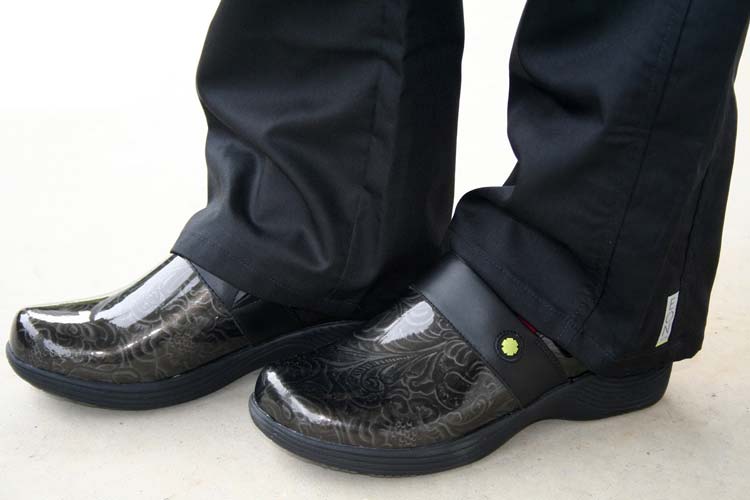 The Heel Design
Dansko clogs have a heel height of 2 inches with a 0.5-inch high platform. The brand has introduced a new heel design which has broader heels for maintaining stability. Its heel cavity is also quite extensive, which adds to its comfort. Yet, some Dansko users have reported against the new heel design. According to them, it gets uncomfortable and unstable on walking fast.
Sanita, on the other hand, prevents ankle twisting and offers a comfortable walking experience. Its heel height is 1.75 inches with a 0.75-inch high platform.
Shoes Piping
The rubber piping on the throat of Dansko clogs is an unwanted addition. The Sanita clogs without the piping are preferred more by the customers. It solves the rubbing problem, which Dansko users complain of.
Shoe Sizes
The shoe sizes may vary depending on the material used in their making. The Sanita and Dansko shoe sizes vary a little.
It is noted that Dansko clogs are wider than Sanita clogs and offer a looser fit and are easy to slip on. Sanita Clogs, on the other hand, are narrower.
Availability
It is reported that finding the right size of the Dansko pair from online stores is quite difficult. Since these shoes are hand-made, their sizes vary from other guides. The good thing about Dansko is that they have their outlets in the USA. You can easily visit them if you can't find anything online.
However, the Sanita shoes are easily available on various online stores that too in different sizes and colors.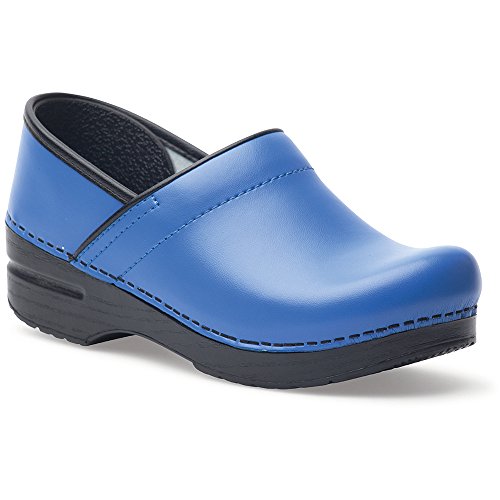 The Padding
It seems that both the companies decided to keep their shoes light-padded as neither of them has too much of it. It is also challenging to find an insole for these shoes.
To remove this inconvenience, Dansko has introduced its Pro XP shoes, which have lightweight, extra-cushioned memory foam and a removable footbed.
Price
The two brands offer almost similar quality shoes, but their prices vary. The shoes by Sanita are much cheaper than Dansko.
Improvement
Dansko has been set on a journey of improvements. It has introduced memory foam sole, wider heels, improved stability, and enhanced shock absorption. However, Sanita is determined to produce the original pieces.
Patented
A patent number is a number assigned by the patent office to set a product unique from others officially. Sanita has patented products while Dansko hasn't. The patent number 0060240 is stamped on the sole of Sanita shoes. This makes them so confident when buying Sanita shoes as they are the original pieces and cannot be imitated.
These are the differences that set the two companies apart. However, the two offer premium-quality products overall. They are noted to have high performance and durability. Along with these differences, we also find some similarities between the two companies.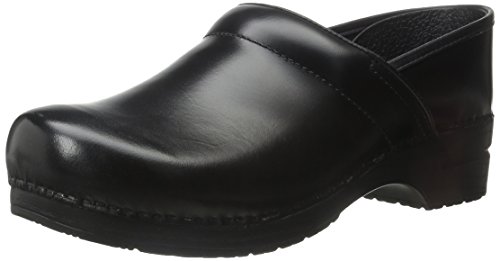 The Similarities
The design and style offered by the two companies are quite the same.
APMA approves the products by both companies.
Finding an insole for the clogs of these two companies is not easy.
Their clogs have enough space for wearers to slip on and off. However, this feature makes the clogs inappropriate for running or walking quickly.
Sanita and Dansko both have a high arched footbed, which offers fantastic support to the feet. The outsoles are shock-absorbent and extremely durable. Their linings are breathable and absorb moisture, preventing it from producing any bad odor.
The shoes by these companies are quite easy to clean and maintain. A little damp or soapy piece of cloth can do the job. They cannot be washed in a washing machine. They require room temperature, especially the ones made up of leather. Damp or too cold places can affect their durability.
The brands do not offer any lifetime warranty with their products, but they can last for two to three years if used properly.
Conclusion
Based on the fantastic reviews by the users of both the companies, it is quite difficult to choose any one of them. For people on a budget, Sanita might be a better option because of its comparatively lower prices, that too, without any compromise over the quality or availability of color and design choices.
If you are skeptical about online stores and prefer to buy from stores, then being based in US Dansko would be the choice for you. It has stores in the US, where you can visit and easily find something of your choice. This saves you from returning goods purchased online in case you don't like them.
Some other factors to consider while deciding to buy a pair of shoes are designs, colors, sizes, comfortability, and the type of sole. Once you have weighed the products based on these factors, you'll end up with some great pairs of shoes.