There are many reasons why you need an excellent insole, which includes eliminating some of the foot problems to improve your foot health. The right insole will provide good foot balance and support that helps to relieve foot, back, and hip pains. This power step vs. super feet article will show you the differences between the two insoles.
If your supper from plantar fasciitis or any other foot condition, using the right insoles for your shoes can help solve these problems. That's why it's essential to find the perfect insole for your specific foot type.
Why are insoles important for your feet?
The insole is the inner part of the sole that is found underneath your shoes that supports the bottom part of your feet. Most insoles are removable, and they're essential in protecting your feet. You can put a lot of pressure and strain on your feet each time you put on your shoes to perform your daily activities or go to the gym for your daily workout. This undue pressure on your feet can, in the long run, cause foot conditions, which can lead to pain in your hip, knees, and ankles. Shoe insoles help to provide your feet with quality protection and comfort, and this keeps your feet healthy. Insoles are great for runners who need extra cushioning, stability, and support for their feet.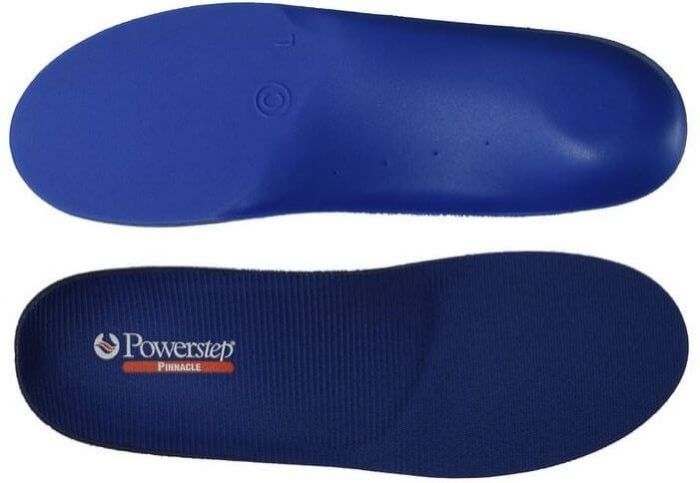 Differences between powerstep insoles and superfeet insoles
| | | |
| --- | --- | --- |
| | Powerstep insoles | Superfeet insoles |
| Comfort | Shock absorbers to evenly distribute the pressure on your feet and relieve foot, arch, and heel pain and even plantar fasciitis | Stabilizer caps at the base of the sole to provide comfort and stability |
| Quality | Made with high-quality materials and a wide variety to choose from but after doctor consultation | Highly recommended by podiatrists and made with quality synthetic materials |
| Durability | Made with durable materials and tends to last longer than superfeet | Constructed with durable materials |
| Innovation | Innovative shock-absorption design to reduce friction and heat and an antimicrobial lining to remove the odor | Newly developed foam that conforms to the shape of your feet for better comfort and support |
| Foot odor | Microbial layer to eliminate feet and shoe odor | Natural NXT antibacterial layer for better breathability and keeping out odor, also latex-free |
Powerstep vs. superfeet: What makes them different?
Comfort
Powerstep is designed with strategically placed shock absorbers that help to relieve general foot pain, heel pain, plantar fasciitis, and arch pain. It's made with full-length double-layered materials that come in different sizes for both men and women. Their quality cushioning provides your feet with stability and firmer arch support. The slightly angled platform gives you better control of your movements while the antimicrobial lining keeps your feet dry and comfortable. However, it takes a while to break in the insole.
On the other hand, the superfeet insole has a narrower heel, which makes it very hard for people with wide feet to find the perfect fit. It has excellent cushioning, support, and an odor-control coating that helps to eliminate odor-causing bacteria. There is a stabilizer cap at the base of the insole for stability and comfort.
Quality
Powerstep and superfeet are both made with high-quality materials and provide lasting relief to your feet and legs ailments. While superfeet has a variety of options to choose from, it's essential that you first consult your doctor on any foot conditions you might have. However, powerstep are the safest insoles recommended by podiatrists. They're made with quality synthetic materials with a soft odor-eliminating cover.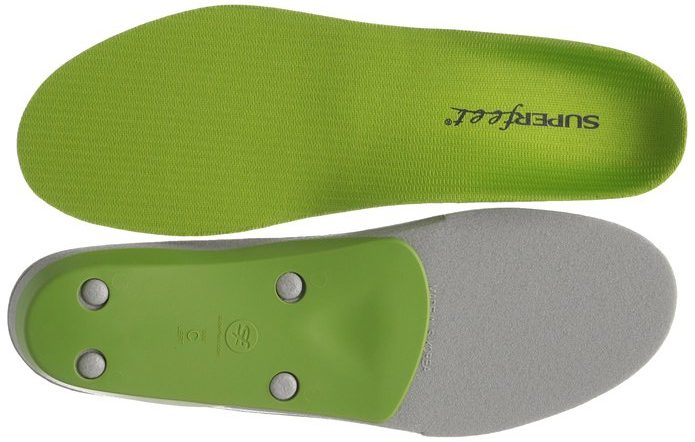 Durability
Both insoles are made with durable materials, but this will also depend on the frequency of use the insoles, whether you bought the right insole, and if your shoes have their own support, or it's just the insoles. Powerstep is a better choice as it can hold its shape better and for longer than superfeet insoles.
Innovation
Powerstep has an innovative design that features shock absorption, which helps to absorb heat and reduce friction. The synthetic material is covered with an antimicrobial lining to get rid of the odor. Superfeet has a newly developed foam that contours to the shape of your feet are hence providing a more comfortable fit and support. It focuses on the critical points of your feet to provide optimal support.
Foot odor
Powerstep insoles are made with an antimicrobial covering that helps to prevent feet and shoe odor from developing after wearing the shoes for long hours. Superfeet insoles are latex-free and have a natural NXT antibacterial coating that allows your feet to breathe while still keeping out odor-causing bacterial buildup.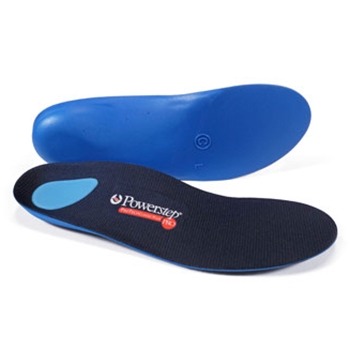 These are made with a plastic shell that contours the arch and the whole heel area with a thin foam layer. Powerstep full-length insoles are great for both men and women and feature a full-length double-layered orthotics that provide exceptional comfort and effective arch support to help meet your arch support needs. These insoles will also help to correct overpronation. They're great insoles for everyone even if you have neutral arches or if your boots don't fit you properly, these insoles can help correct that.
These insoles have an excellent heel design that stabilizes your heels and cushion for comfort that reduces friction and a top antimicrobial layer that keeps your feet dry and odor-free. These insoles are designed to provide relief for foot pain, which includes plantar fasciitis. They're perfect for giving you extra comfort and support in your shoes and are even great for runners, athletes, nurses, construction workers, and anyone else who needs extra support and comfort.
Pros
Can be used by people with all foot types
Are made with durable that can hold its shape for longer
Made with an antimicrobial covering that keeps out the odor
Offers excellent comfort and effective support
Made with a soft, bouncy foam
Cons
The arch support may be too close to the heel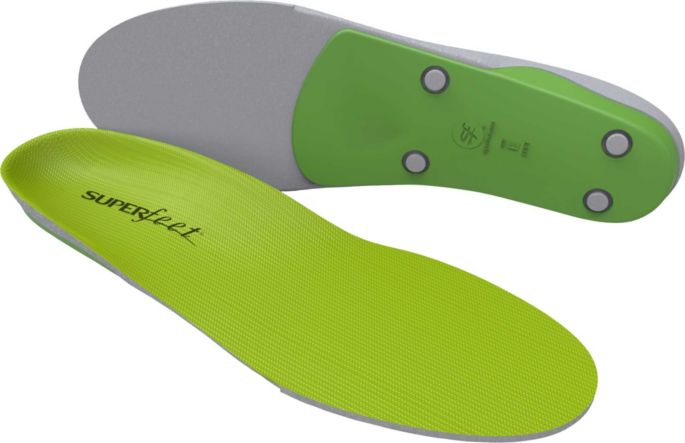 These insoles are designed to provide stability to your feet with stabilizer caps at the bottom, and this helps to keep the insole in place inside your shoes. Superfeet green full-length insoles feature excellent orthotic support, great cushioning, and a wide and deep heel design. This makes it very comfortable and supportive it also has a natural NXT antibacterial coating, latex-free, and uses all vegan materials. It has a durable construction that includes four strategically placed shock absorbers to help with your foot pain, heel pain, plantar fasciitis, and arch pain.
This insole is constructed with a high-density closed-cell foam that is very supportive and can retain its firm bounce for a long time. These insoles provide natural support, help to improve the way you're supposed to walk, distribute the impact, and reduce the strain and stress on your body. The high impact foam with a cushion under the ball of the foot provides you with a very comfortable feel throughout the day. Superfeet insoles have a remarkable feature where they're color-coded to make it easier for you when you're selecting the proper fit for your feet.
Pros
The stabilizer caps help to keep your feet in place at all times
They have a wide and deep heel cup that provides excellent arch support
Excellent insoles if you spend most of your time on your feet
Help to alleviate and treat painful foot conditions
They're color-coded which makes it easier to select
Cons
They produce a squeaky noise when you're walking
Conclusion
In this powerstep vs. superfeet contest, you now have enough information to help you choose the right insole for your feet. These two insoles do a great job when it comes to relieving certain foot conditions. They're available in various sizes and options depending on your needs, but remember to consult a doctor to help you pick the right fit. Powerstep is better than superfeet if you base it on comfort, quality, and innovation, but that doesn't mean superfeet isn't good too.
FAQ
Are insoles good for your feet?
A softer insole is better, but a completely soft one will not be effective, and it will cause problems. A suitable insole should have a balance of both hard and soft structures to work together to align your feet properly.
How do you know you need shoe inserts?
If you have very low or high arches, regular shoes can't provide your feet with the support your feet need. Orthotics are designed to provide the support your regular shoes can't.
How long do powerstep insoles last?
If you're using them normally, they can last for at least six months, but this will depend on different factors like frequency of use and your foot structure. If you use them in your running shoes, they will last about 3-4 months.
Should you remove insoles when using orthotics?
You should wear your slip-on orthotics over the original insoles, but some customized orthotics require you to remove the original insoles in your shoes so that they can fit snugly in your shoes.
Why do insoles hurt my feet?
The main cause of your insoles hurting your feet is because they don't fit in your feet, so they don't provide your feet with the required comfort and support you need when you're standing or walking.