Have you bought your all-time favorite leather boots but found out they don't fit your feet quite well? If this is the case, it might have been very disappointing for you. But there is nothing to worry about. If your boots are not hugging your feet, the way you want them to, or if they are a little loose, you can easily shrink and shape them the way you desire.
However, you can first check if any return or replacement policy comes along with your shoe. If not, don't worry, we have got your back. Here are some of the best ways on how to shrink leather boots in the comfort of your own home:
Soaking Method:
Shrinking your boots with the help of water is one of the most common methods of getting the job done.
First, you need a bucket filled with water to soak your boots. Make sure that the level of water is above your boots since this will ensure an even-soaking. Soak them for about an hour.
After an hour of soaking your boots, quickly put on a pair of cotton socks and soak your feet in a tub of water. The wet socks will help your boots in shrinking and also protect your feet from any pain.
Once you are ready with the damp socks, put on your wet boots over your damp socks. Do make sure to put them right after you take them off the bucket as they will immediately start shrinking once they are out of the water.
Now, all you have to do is wait for your boots to dry while you are still wearing them. This will ensure your boots to shrink to the shape of your feet. Once they dry out completely, you can take them off.
Putting on the wet boots and walking around in them may sound quite challenging. However, the results will not disappoint you.
Shrinking your boots by using heat:
You need to be extra careful while using heat to shrink your boots. Although this method works effectively, any extra heat may cause unwanted damage to your shoes.
One of the traditional ways of using heat to shrink your leather boots is water and hair blower/ dryer. First, damp your boots using a water spray bottle or any cloth. Target the parts you want to shrink. If you want to shrink your entire boots, go ahead and dump the whole boot.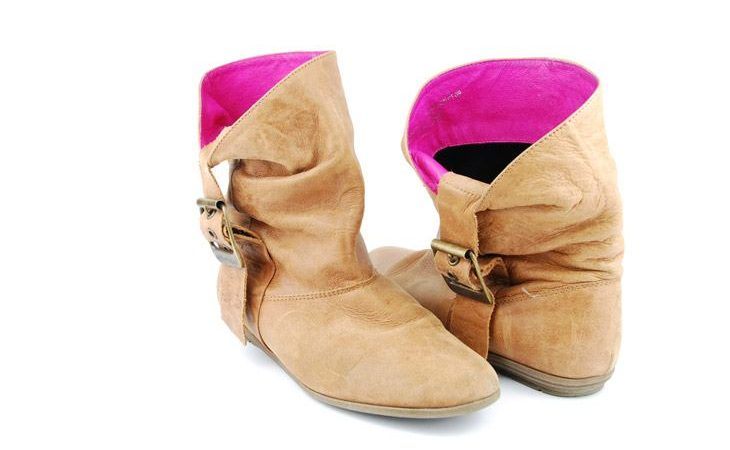 Then, hold the blow dryer at the minimum heat setting, about six inches away from the boot. Start blow drying the parts. Remember, only the damp parts will shrink.
Be careful when you do this as excess heat can damage your boots. Also, make sure to apply some leather conditioner after you are done shrinking them.
Shrinking your boots using Alcohol or Vinegar:
Both alcohol and vinegar have properties that can shrink leather. Also, vinegar is a great cleaning agent. However, it can also damage your boots if used in large quantities. So, make sure to use only a little amount of it.
For shrinking your boots with this method, you can fill a spray bottle with either alcohol or vinegar. Spray the parts you want to shrink. Then, you can keep your boots near a heat source or use the blow dryer to dry them out.
Also, apply some leather conditioner to moisten them.
You shrink your boots to get a better fit. There are some other methods on how to get a tighter fit without altering your boots literally. Here is how:
Shrinking your boots by using an Elastic Band:
In this method, you will need to sew an elastic band around the inner heel of your boots. Of course, this method does not shrink your boots, but this is an excellent way of getting a better fit. You can buy the elastic bands at your nearest local stores.
This method is more suitable for thin leather as you can easily sew in the elastic bands. Sewing through thick leather can be more difficult.
First, cut the elastic band according to your required thickness. Then, place the elastic band around your inner heel and start sewing. While stitching one side, you can hold the other part by pinning it down with a hairpin.
You may have to take a thicker thread rather than the usual threads that you use on your clothes. Also, make sure to pick a thread that matches the color of your boots.
Extra Insoles:
Again, this method does not shrink your leather boots literally. But this is an excellent way of getting a better and tighter fit without causing any damage to your pair of joy.
There are two ways of doing this. You can remove the current insoles and replace it with a thicker one. Or, you can insert an extra insole over your existing insole. Try both methods and pick whichever suits your feet best.
Stuffing Your Boots:
Another great way of getting a tighter fit is by stuffing your boots. You can stuff tissue paper or small pieces of cloth to make your boots tighter. You can try your boots after you have stuffed them. You can easily stuff more and take out some stuffing depending upon the fit.
However, this method might cause you to discomfort if you keep your boots on for too long. This method is best recommended for shorter durations.
Conclusion:
Shrinking your leather boots is not difficult at all. Leather has natural properties that can shrink or stretch depending upon several factors like temperature, water, etc. However, while doing so, you need to be careful as an excess of anything might result in damaging your boots. Also, ensure that your boots are clean before shrinking them. Even the products you use for shrinking your boots must be clean as any dirt may damage and stain your boots. And you surely do not want that. Last but not least, apply some leather conditioner on your leather boots to maintain its health.