It's no secret that white shoes are the most versatile and stylish shoes you can ever own. Almost everyone owns a white pair of shoes that they can pair with any type of outfit. But everyone will also agree that white shoes can also be annoying since they get dirty quite easily. Stains on white shoes are very prominent and even harder to remove.
If you've got some stains on your white shoes, then worry not. Follow these few techniques and methods, and you will have your white shoes sparkling and free from stains in no time. You will not have to keep your favorite shoes away in some corner and forget about them. You can keep rocking them for a long time to come since these methods are very safe and will not cause any damage to your shoes.
Some of the things which you will need to clean your white shoes are:
Any soap, shampoo, or a mild detergent
Magic eraser
Bleach
Squeezed lemon juice
Toothpaste
Toothbrush
Water and cloth
All these items will not be required in one technique. For one method, you will only need a few of the items which you will learn more about below.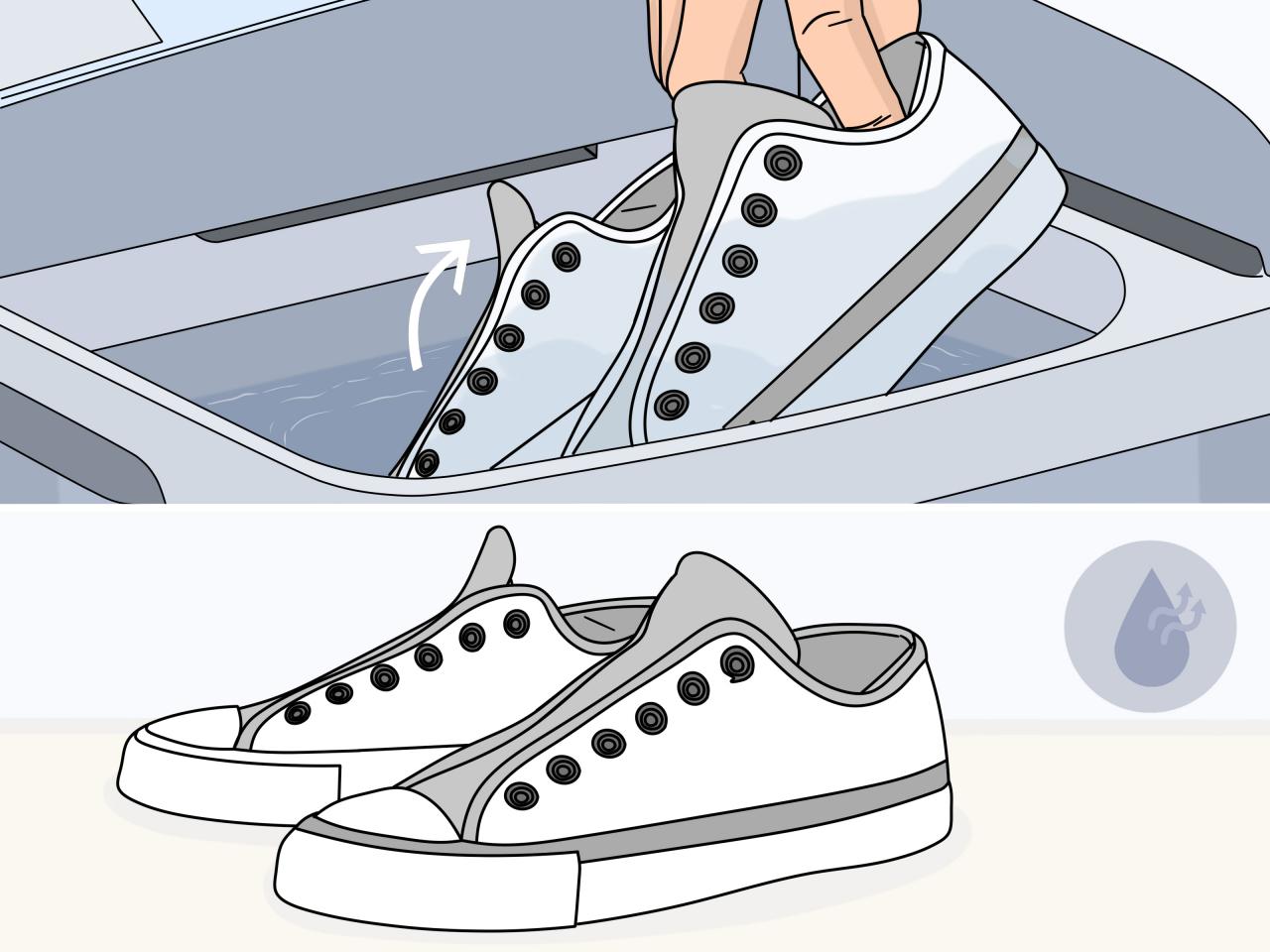 Techniques:
In this article, you will learn about five different techniques/methods on how to remove yellow stains from white shoes.
First Technique
In the first technique, you will require soap, shampoo, or mild detergent. These items can be easily available in your home. This method is straightforward. The steps to follow are:
Mix the soap/shampoo/detergent with water up to 1/4 of a cup
Add two cups of warm water in the solution
Take a clean white cloth and dip in inside the solution
Now with the wet cloth, scrub your white shoes gently and repeat it until the yellow stains on the shoes disappear
Once the stains are gone, wash the shoe thoroughly and dry it somewhere warm
Second Technique
In this second technique, you will need a magic eraser. This method is fairly simple, and you won't even have to make the whole shoes wet. It is perfect for removing yellow stains not only on fabric shoes like cloth but great for shoes that are made of leather. It can also remove stains on both plastic and rubber soles, which makes it even. Most people suffer from stains on their soles, so this technique is perfect for those people.
The steps to remove yellow stains from your shoes using magic eraser are:
Find out the spots on your shoe which have yellow stains.
After locating those stains, dip the magic water in a solution of soap and warm water.
Now rub the areas which have the yellow stains with the magic eraser until the stains are gone. You will see the magic unfold before your very eyes.
The reason why magic erasers are so great and effective is that they are made of melamine foam. When it is rubbed with water, it becomes foam. The foam contains some microstructure that acts like sandpaper and thus removes the stains.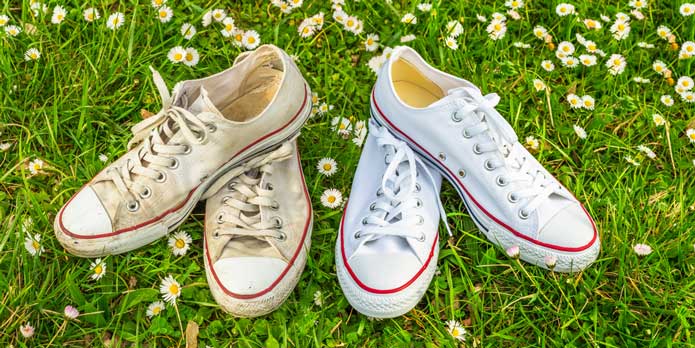 Third Technique
One of the most effective ways to remove yellow stains is by using bleach. In this third technique, you will use mixed bleach with water to clean off the yellow stains from your shoes. You can also use hydrogen peroxide for this method.
Even though bleach is very effective, it is hazardous to use it on your shoe since it can damage them. Therefore, you must mix bleach with water. The solution must contain bleach mixed with five parts of water.
However, hydrogen peroxide is non-toxic and is very easy and safe to use. It acts like a cleaning and brightening agent, which makes it perfect for removing stains from white shoes.
The steps you need to follow are:
Make a paste of hydrogen peroxide by mixing it with water or use the bleach solution.
Use a toothbrush or a clean cloth and dip it into either of the two solutions.
If you are using the bleach solution, then make sure to use gloves and mask since it is solid
After the second step, use the brush or the cloth to rub the solution on the yellow stains of your white shoe.
Repeat this step until you get the desired results.
Fourth Technique:
The fourth technique is also one of the easiest techniques on this list. In this technique, the cleaning agent which you will be using is lemon. You will find it easily available in your home. Believe it or not, lemon is extremely effective in removing yellow stains from white shoes. The high citric acid content of lemon makes it a kind of bleach. It is also great to act as a disinfectant to remove germs from your shoes.
The steps to follow in this technique are:
Take a couple of lemons and squeeze out the juice into a bowl and add a little water.
Take a piece of clean cloth and dip it into the juice.
Scrub the yellow stains on your white shoe with that cloth
Once the stains are gone, wash the shoe to remove any residue of the lemon juice on the shoe.
Fifth Technique:
Last but not least, you will need toothpaste for the final technique. This method is perfect for the quick removal of yellow stains from your white shoe. This technique is also great for removing stains from soles. Toothpaste is also very effective in covering up the stains, therefore, making it ideal when you are in a hurry. To use this technique, just follow these simple steps:
Apply some toothpaste on an old toothbrush
Rub the shoes where it is yellow with the toothpaste and toothbrush
Once the stains are gone, wipe off the foam using a clean cloth or wash it.
Conclusion:
Thus, these are some of the few techniques and methods which you can adopt to remove the yellow stains from your white shoes. Some of these techniques can be more effective than others, so be sure to try out all these techniques, and you will have a sparkling white shoe.