Leather shoes are very stylish when you pair them with the right clothes. They are also some of the most expensive types of shoes. This is why getting scuffs on them can be extremely painful. Scuffs on leather shoes are easily noticeable and can ruin the look of your shoes. Keeping them off of your shoes can be quite challenging. It is surprisingly easy to get scuffs on your shoes without you even knowing when it happened. However, getting them off your shoes is also quite easy. You just have to learn the correct steps and measures, and you'll be good to go. Some of the easiest ways on how to remove scuffs from leather shoes are given below.
There are two ways through which you can remove scuffs. First is by using some household items which you use every day. And the second way is by using commercial products which you easily find in the market.
Household Items:
You can easily remove scuffs from your leather shoes by using some of the items that you find in your home. This option is also very cheap since you don't need to spend extra money on professional help and other expensive products. If you are considering this option, then some of the items which you can use are toothpaste, baking soda, nail polish or nail polish remover, dish detergent, petroleum jelly, or a pencil eraser.
Instructions:
Toothpaste:
This might come as a little surprise to you, but toothpaste is one of the best ways to remove scuffs from your leather shoes. It does the job surprisingly well. All you have to do is put some paste onto the area and scrub it with a piece of cloth. Follow a circular motion and then rinse it off with water or simply wipe it off. You can repeat this method one more time or until you get your desired results.
Nail polish:
Using nail polish is probably one of the easiest ways to remove scuffs from your leather shoes. This will barely take up any of your time. Just soak a piece of Q-tip into the polish and gently rub it over the scrapes. Apply the polish until the scuffs become invisible. Just keep in mind to use a non-acetone polish only.
Nail polish remover:
You can also use a nail polish remover and not just a nail polish to remove scuffs from your leather shoes. This method is just the same as the previous one with nail polish. Simply use nail polish remover to polish out the scuffs from the shoes. It is effortless.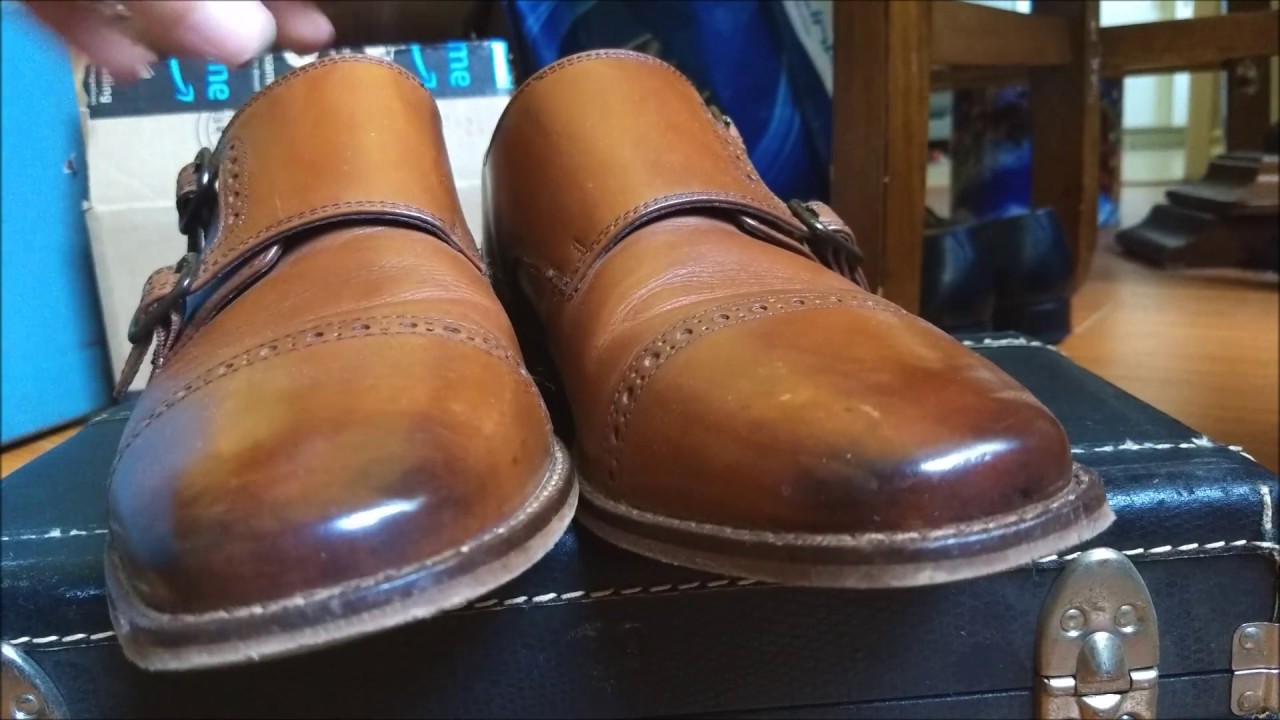 Dish Detergent:
Dish detergent is also another great way to remove scuffs from your shoes. It is effortless. All you have to do is mix some dish detergent with warm water. Then you scrub the scuffs off using a cloth or a soft brush. It is recommended to use a detergent, which is more on the mild side. This way, you won't have to risk your shoes from getting faded.
Petroleum Jelly:
Another surprising yet effective way to remove scuffs is by using petroleum jelly. Just like the rest of the steps, this one is also quite simple and easy. Simply, apply some petroleum jelly to the scuffs and rub it with a cloth. After you are done, just use another clean cloth to remove the excess jelly. This method is just like the way you polish your shoes, and you can easily do it at your home.
Pencil eraser:
If you have not been spending your entire life under a rock, then you must have used a pencil eraser before. This method follows the same style. Just take a pencil eraser and rub it across a scuff until it goes away. What could be simpler than this technique?
Baking Soda:
Last but not least, you have baking soda, which is excellent in effectively removing scuffs from your leather shoes. If you're finding it hard to get rid of those annoying scuffs, then a baking soda might just help you. In this method, all you have to do is mix a spoonful of baking soda with warm water. Mix it well so that you get a thick solution. Now use a clean piece of cloth or a soft toothbrush to rub the solution onto the scuffs. Keep scrubbing until the scuffs disappear.
Commercial Products:
There may be a good number of people who might prefer this method over the first one. This second method is more effective since the products are made solely for this job. With that being said, you will find a ton of products in the market to remove scuffs from your shoes.
You will get wipes, polish, eraser pens, which are specifically designed for this job and can be used on any type of leather. However, some products may be suitable for only a certain kind of material. Be sure to read the instructions so that you don't damage your shoes.
Most of the products come with accessories to clean your shoes before you apply the product. Follow the instructions provided before you carry on with your work, and you will have a scuff-free leather shoe in no time.
Conclusion:
If you ever come across scuffs on your expensive leather shoes again, don't stress too much about it. Just follow these few simple and easy instructions, and the scuffs will go away as easily as they came. You can keep your shoes looking fresh and new for a long time. However, it is always a good idea to follow some precautionary measures to prevent scuffing on your shoes. This way, you will not be required to break your sweat by repairing your shoes each time they get scuffed. Protective shoe sprays and regular cleaning can do a great job in preventing your shoes from scuffs. You won't have to get rid of scuffs if you never have them.