Moving to a new house, an apartment, or another city can be exhilarating. The anticipation of living in a new place, as well as the prospect of a new life, can be incredible.
But first, there is all the packing you have to deal with. Among all the items in your wardrobe, shoes are perhaps the trickiest items to pack. Packing them in individual boxes can take up a lot of space. But you also don't want to crush them and have them lose their shape, which can be pretty devastating because it is almost impossible for a shoe to regain its shape after losing it.
The topic of how to pack shoes for moving is a prevalent one. Today, we share our top tips and ideas that you can employ while securely packing your shoes.
Let's begin.
How to pack your everyday shoes for moving.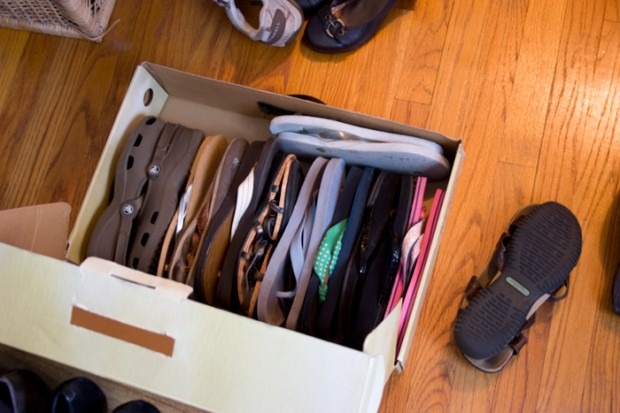 Everyday shoes can be anything from your running shoes, shoes that you wear to the gym, the ones you wear at home or for running errands. These are shoes that you will need on an everyday basis.
The best way to pack these shoes is in large containers. Large storage containers that are see-through are the best ones. Since you can spot each of the shoes inside the box, you will have no problem accessing them when you need them later.
Another option is to use baskets. Packing your everyday shoes in large baskets is also a great way to keep them in sight while taking good care of them.
But before you start packing your shoes, it is a good idea to stuff them, so they don't lose their shape. You can use items such as old socks and tissues for this purpose.
Additional tips for packing everyday shoes.
Leave the shoes to air dry overnight before you pack them. This will get rid of any type of odor and bacteria which can specially breed in everyday shoes.
To keep your shoes smelling fresh, put a couple of unopened tea bags in them.
Put the heavier shoes at the bottom and the lighter ones at the top. This will prevent the lighter shoes from getting crushed.
Do not pack your shoes in plastic bags. This will suffocate the shoes and encourage molding. If you are not able to get to the shoes on time, you might have to say goodbye to your shoes.
Tie the laces of the sneakers so that it will be a breeze while taking them out.
If you use boxes to pack your shoes, make sure to label them clearly.
Make sure that you clean your shoes thoroughly before you pack them. If there are dust and dirt in the shoes and you box them together, it can affect their longevity.
To avoid confusion and headache, later on, you should also take the time to pack the shoes in pairs.
How to pack dressier shoes.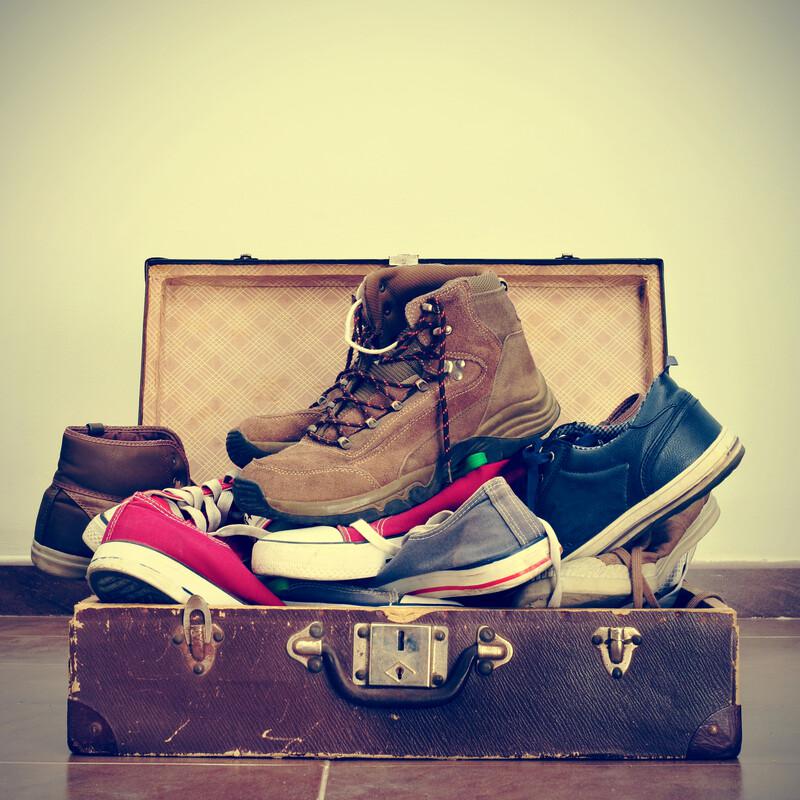 For footwear that is a bit fancy, you cannot just toss them all together in a box or a basket. You need to use a different packing strategy for shoes that are used for formal occasions.
Some of our favorite methods and tips for packing formal shoes and heels are:
Transport them in their original boxes. Fill the gaps in the box with tissue papers to prevent the shoes from getting scruffy.
For closed shoes, you can stuff them with socks and tissue papers. However, it is best to refrain from using old newspapers for lighter shoes. Inks from old newspapers can cause staining.
Use bubble wraps to cover heels so that they don't break while moving. Bubble wraps can also be used on straps and those shoes that have spiked as well.
An alternative is to use packing paper for wrapping dressier shoes and heels as well. This will prevent the shoes from getting scruffy. If you are low on packing paper, you can paper towels.
Use duster bags only if you must. And only for shoes that are a designer or branded pairs. Duster bags are great at keeping your shoes protected, but they take up a lot of space, which is not ideal while moving.
How to pack several pairs of shoes in a box.
Very few of us retain the original box of the shoe after we bring them home. In this is case, you might have to resort to more significant storage or packing boxes for packing and transporting your shoes.
If you are in such a situation as many of us, you can follow the tips that we are sharing below.
Before you start packing, you need to do the following:
Use packing paper or paper towels to wrap each pair nicely.
Use crumpled paper at the bottom of the box to act as a buffer.
To start packing: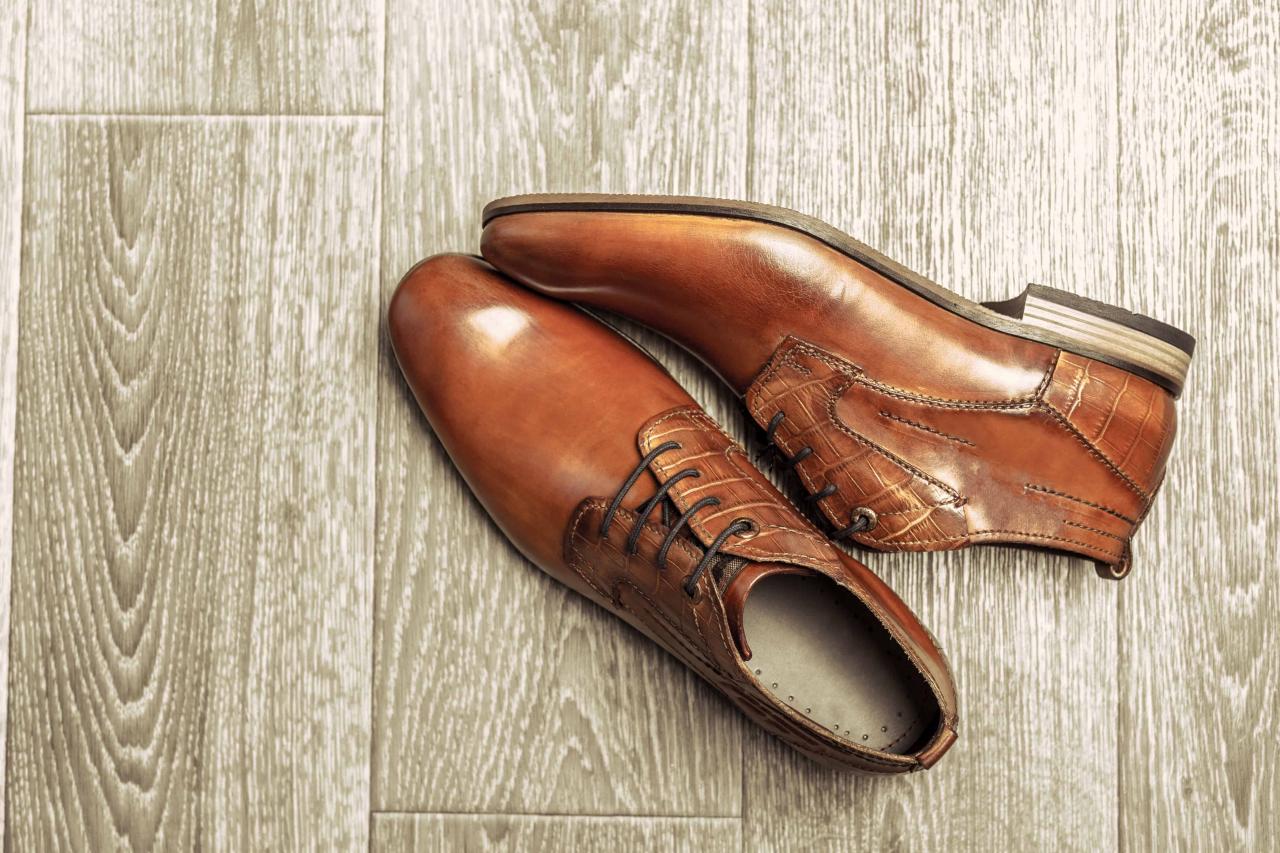 Identify the heaviest pairs of shoes and place them on their sides at the bottom of the box. For most people, the heaviest shoes in their wardrobe are the snow boots and combat boots. Continue to fill up the bottom with the shoes. Fill up any spaces in between the shoes with tissue paper.
Add another layer of crumpled paper on top of the first layer before you continue with the second layer of shoes. This layer of paper will serve two purposes – it prevents the shoes from getting scruffy and also keeps the shoes from accumulating moisture.
The second layer of shoes should be those that are lighter in weight. To save space, alternate the directions of the shoe.
You can continue adding the layers of papers and shoes until the box is full. However, make sure that the weight of the box is not above 40 lbs or 18 kgs, as it will not be easy to load and unload the boxes.
After the box is full, cover it and seal it with a tape. Additionally, it is essential to label the boxes as it will be easier to access them later on.
Packing tips for the rest of the shoes.
Now that you have taken care of your fancy shoes and everyday shoes, its time to think about other types of shoes in your arsenal.
For out of season footwear, there is no reason to waste your time and energy in packing them. If you have them in storage boxes, you can transport them without taking them out. This will eliminate the need to unpack them later when you arrive at the new place.
However, if you like to display your shoes in racks, you might need to pack them in boxes, as we have mentioned above.
Pack a couple of shoes that you will need during the first days at the new place in a separate box. It could be anything from sneakers, bathroom slippers to work-related footwear. Packing these few essentials separately will prevent the need to rummage through the boxes when you need a shower at the new place and so on.
You should also pack a sturdy pair of shoes that you will need for unpacking and moving around the new place. You cannot unpack in a pair of flip flops. It is not safe or easy on your feet. A comfortable yet sturdy pair of sneakers is always a good choice.
Try not to overload the boxes. Shoes can be of substantial weight, so overpacking them can make it a nightmare to carry and load them.
If you have a lot of smaller shoe boxes, get a larger box and line them up inside it. You can fill up the empty spaces in the boxes to prevent the shoes from moving and getting damaged.
Conclusion.
Packing before making a move can be a difficult challenge for many of us. There are a million things to take care of – from pieces of children's stuff to your partners to the pet's stuff. Those who have children have it more robust than the rest of us who are not parents.
But the challenges of safe packing does not only apply to glassware and fragile items in the house. Packing shoes pose a different challenge altogether. It requires careful planning and packing to transport them safely.
The alternative is to pay movers and their company to take care of your shoes. But they do not come cheap. But if you can make use of the methods and tips that we have shared in this post, you could save a lot of money.
To pack your shoes safely and correctly for moving, you do not need to buy specialized tools. You might need to get several storage boxes, but that's about it. Tissues and tapes and paper towels are available in all our homes so you can easily pack your shoes for moving. With a little bit of cleaning, planning, and common sense, you might just be on your way to becoming a shoe packing expert for moving.