Do you feel crazy after reading this question? The truth is that we cannot make the shoes smaller, to the bottom line that we cannot even make the shoes look smaller.
Then what is this article about, you may ask. Have you ever faced the situation where after a long tiring search, entering and exiting many shops for just one pair of shoes and finally after all that you found a pair of shoes of your taste, that you like and when you try it, it is a disappointment! The shoes are large for you. The size does not fit you.
That is one of the worst feelings a person can get! I still remember, during my childhood days, how many shoes I have to leave in the shoe shop just because they are too big for me. Now too, the same issues persist.
What is your shoe size?
We think every other people in the world buy perfect fitting shoes, and it is we who are craving shoes that we love but are of significant size. Are you one of them? Then, let me tell you a secret. Every other people is all of us. Yes, no one has checked our shoe size, mostly after school. We go inside a shop and just find shoes that fit us and that we love. Simple.
Most of us do not know what the correct size of our feet is. Many people just say the same extent that they checked last time in school. Don't stress much!!
Human beings are capable of re-using the tools and materials at home for various purposes. So, here we are going to use the materials available in our home to fill our shoe with to make it perfectly fit us.
Is there any way I can make large shoes fit for me?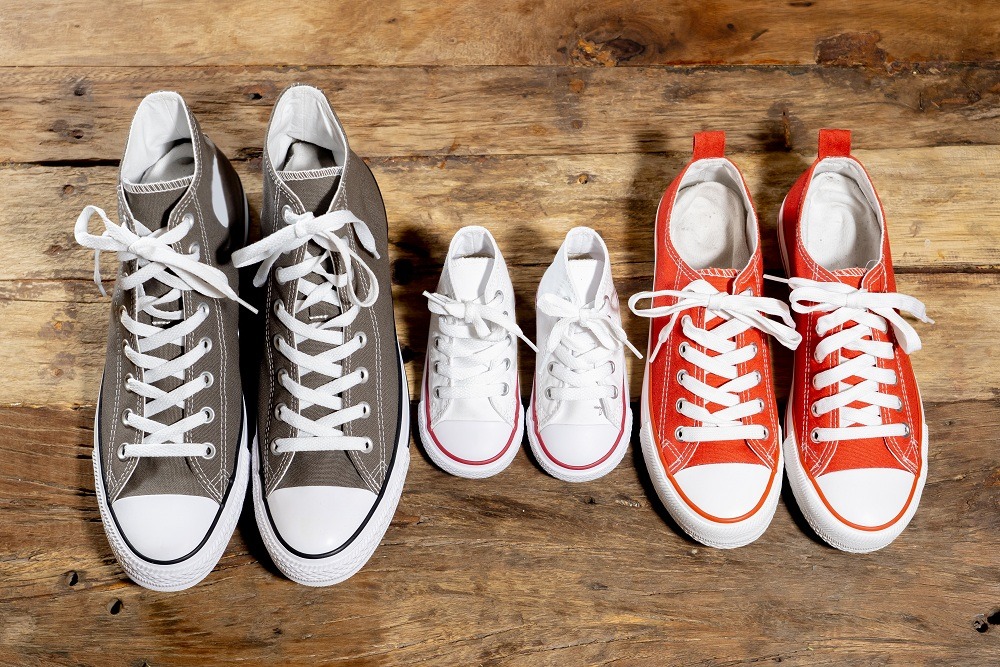 Will you be excited if I say yes? If so, then be. Be excited. Because there are ways, yes, more than one way in which you can make your shoes smaller and wear for the dress that you longed for and walk into a room with an elegant look. Come on, let us see what are how we can make shoes look smaller.
Idea No: 1 Use your socks. Not one! But a pile.
What? You might wonder. I know your favorite shoe that you bought even after knowing it will not fit you. Well, this idea can help in making your shoe fit for your feet.
Wear socks and then try your shoes. If it fits and not loose like before, well, that is great! If not, then just double the number of socks. Wear one or two skin-fit socks or stockings. Wear one or two socks on each other. This will increase the thickness of your foot, and your shoes would fit right.
Rejoice in joy, if it fits.
However, this will not suit people who are too sweaty. Since the thickness would add more sweat, and you might get some allergies in feet. Also, this is not recommended for people who are living or working in hot weather.
Idea No: 2 Insoles can help you.
I know the insoles are the come-along with the shoe. Those are the ones that are made for the people whose feet fit right for the shoe. But we are different people who bought shoes and now trying to adjust it for our foot size. In that case, we have to gift our shoes, a new pair of insoles.
First of all, what is an insole? An Insole is a soft pad that is glued to the shoe for the comfort, cushioning, and warmth for the person wearing that shoe. It is made from different materials like foam or gel material or leather.
These insoles are available handy. Fitting these insoles inside your shoe would increase the thickness and make your foot fit inside the shoe perfectly. You can try this technique even for heels and open-toed shoes.
Ensure you buy comfortable and good quality insoles, which can last for long.
Idea No: 3 Pile up the Toe area
You can also fill in your shoe with cotton balls or tissue papers. This filling will reduce the extra space that your big shoes have and help in making your shoe look perfectly fit for your feet.
This is recommended for a short walk or mostly in standing position. This becomes uncomfortable when you have to take a long walk or run.
Idea No: 4 What if your shoe can shrink
Try soaking your shoes in water for some time. You may also use leather conditioners while wetting it. After some time, you can air-dry the wet shoes so that it shrinks to considerable length.
Extra care must be taken while following this technique since improper handling of this technique might cost you, your lovely shoes.
First, wet your shoes. Then allow it to dry in sunlight or use a dryer. Be careful with the temperature in the dryer before exposing your shoe to it.
The shoes would shrink to your expected length, or sometimes it may shrink too much. So, extra care must be taken before trying this method. Some try this method by wearing the desired shoes so that the shoes do not shrink too much.
The shrinking is based on the material of the shoe. You may be in need to repeat this process several times till your shoes shrink to the desired length or width.
Idea No: 5 Do you know your nearby cobbler?
A cobbler is a person who fixes shoes for his living. He can make your shoes fit for your size by padding up some insoles or cotton pads or any leather material that is also comfortable.
A cobbler can help you in fitting your shoe for your size since he has experience in adjusting the shoe size, or he would also have materials that are comfortable for the leg and feet at the same time, make your shoe fit you.
Idea No: 6 Try with half insole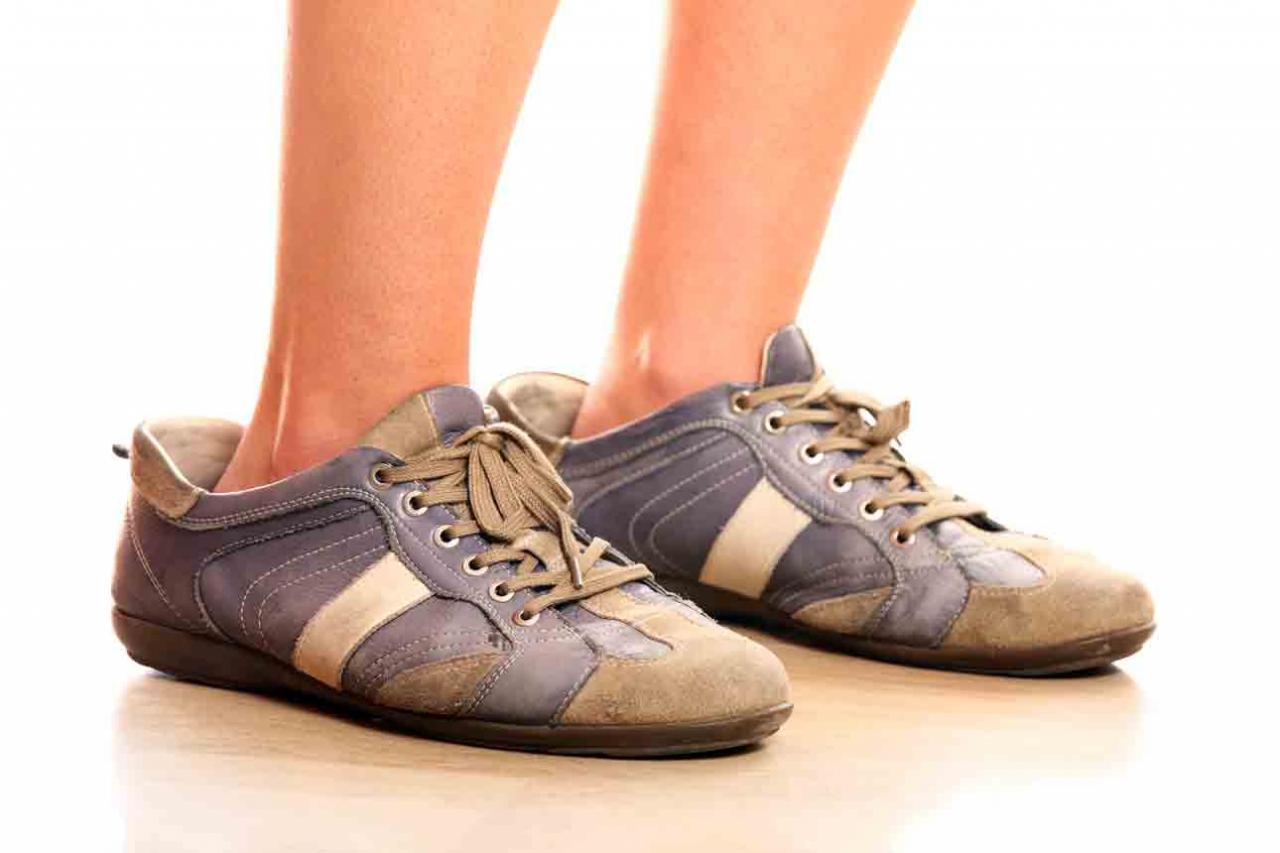 Sometimes, adding a full insole inside your shoe might cause uneasiness while walking or running. Therefore you can use half insoles, which are less in thickness and much more comfortable to wear.
Idea No: 7 Strips for heels
Some strips are available in shops alongside insoles and padding materials. These strips are called heel strips, which you can use as a remedy for pinching shoes or heels and stick in the ankle or anywhere to take up space.
Idea No: 8 Maintain your posture
If you maintain your posture of waking straight with the correct placing of the foot (placing the full feet on the land), your shoe will not loosen very often. The correct posture sometimes helps in making the shoe look comfortable for you.
Idea No: 9
The above methods work for once before going out or when you are in a hurry and will not be able to invest some time (except the shrinking method). This method is beneficial if you know the art of sewing.
Yes, if you have a sewing machine and some elastic bands or clothes that are smaller in size, then you can permanently make your shoe fit your size. The steps are,
Take the elastic band or cloth that you have chosen and pin by fully stretching it to the shoe.
Sew the band or the cloth to the shoe
Remove the pins
Now, your bigger shoe is perfectly ready for you to wear with the perfect fit size.
Things to remember:
No matter what type of method you try, what you stuff your shoe up with, the size of the shoe outside remains the same. This unconsciously changes your posture while walking, leading to some serious problems like spinal problems.
It is essential to maintain your straight posture even though you are wearing bigger shoes. Be conscious and stand straight. Walk with your spinal straight; use your full feet while walking.
No matter what method you are trying, it is not preferable to use these shoes for a long walk or for running during your morning exercise or any such activities. Sometimes to refrain from causing ankle injuries, you must reduce your usage of significantly larger shoes than you are used to.
You can use the methods for short distance walk or when you will be in a standing position for long. Please do let us know if you will use any other methods to fit your shoe or what technique worked for you, or it can be some other technique that is not mentioned here that would work for anyone.