Getting paints on your favorite shoe can be one of the most irritating things that can happen to you. Most people would think that getting rid of them is not possible and may even toss them out. Yes, it is tough to remove paint from your shoes, but only if you don't know the correct steps and methods.
In this article, you will find several methods through which you can remove paint from your shoes, whether it is acrylic or spray paint. You might have gotten some paints on your shoes while painting your walls or doing some artwork. But worry not, by following these few steps, you can easily remove those annoying paints from your shoe once and for all.
Using acetone for removing dry paint from shoes
Using acetone is a great and easy way to remove dry paints, especially from the midsole of any shoe or boots. For this method, the things you will require are:
 A pure bottle of acetone
Some cotton balls
Rubber gloves
Soft and bristled toothbrush
A blue painters tape
A metal file
Once you are ready with all the above items, you can proceed with the following steps: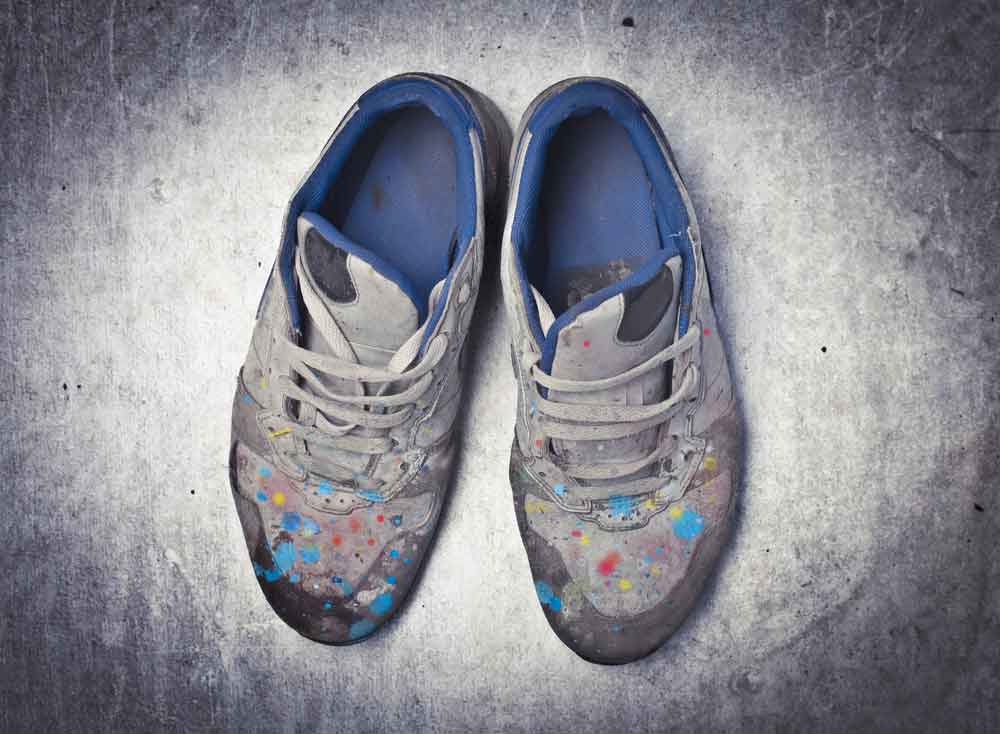 First, use a metal file to scrape off the paint, which is present along the border and the edges of the shoe's midsole. You can get a metal file online if you don't have one. When using the metal file, don't press it too hard as it might damage your shoe.
After the paint is scraped off from the midsole, you can now use the soft brush to remove any dust and excess paint remaining on the shoe.
After you have prepared the shoe, you will now use a blue painters tape to mask off the areas which do not have the paint. This step is crucial to safeguard the areas that you do not want the acetone to affect.
Once you are done masking off your shoe, you can now use pure acetone to clean all the remaining paint on your shoe. Before you do this, it is essential to wear rubber gloves to protect your hands from acetone.
For the next step, use some cotton balls to cover the entire air unit on your shoe. This prevents acetone from entering your shoe.
After you've covered all the areas, you can now apply acetone liquid on the paint stains on your shoe. Use a cotton ball to apply acetone on your shoe.
When using acetone, it is essential to keep a few things on your mind. Remember to rub it gently and don't apply over the same spot repeatedly as it might damage your shoe. Once you remove the paint from your shoe, you can clean the shoe with warm water.
Using dish detergent powder to remove paint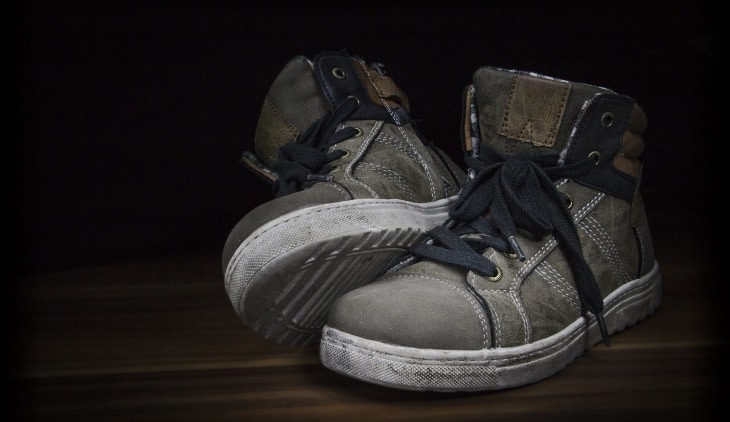 You can also use a regular detergent powder to remove stains from paint on your shoes if the stains are soft or acrylic. Using this method, you can soften, then paint and obliterate those marks. The items you will need for this method are
Warm water
Toothbrush
Metal file
Some cotton balls preferably wet
A soft sponge
Dish detergent
The steps to be followed are:
First, you will need to soften the dry paint on your shoes by using a wet cotton ball
Once the cotton balls are soft, you can use a metal file to remove the paint marks from your shoe. Do this step carefully, and don't apply too much pressure since it can damage the shoe.
After this process, use a sponge or a piece of clean cloth and dip it in a solution of detergent and warm water. And then rub it in on the shoe to clean the remaining marks. Repeat this process until the marks slowly disappear.
Once the marks disappear, you can wash the shoe.
Allow your shoes to dry by letting it sit in a cool and well-ventilated area.
Using mineral spirit to remove paint from shoes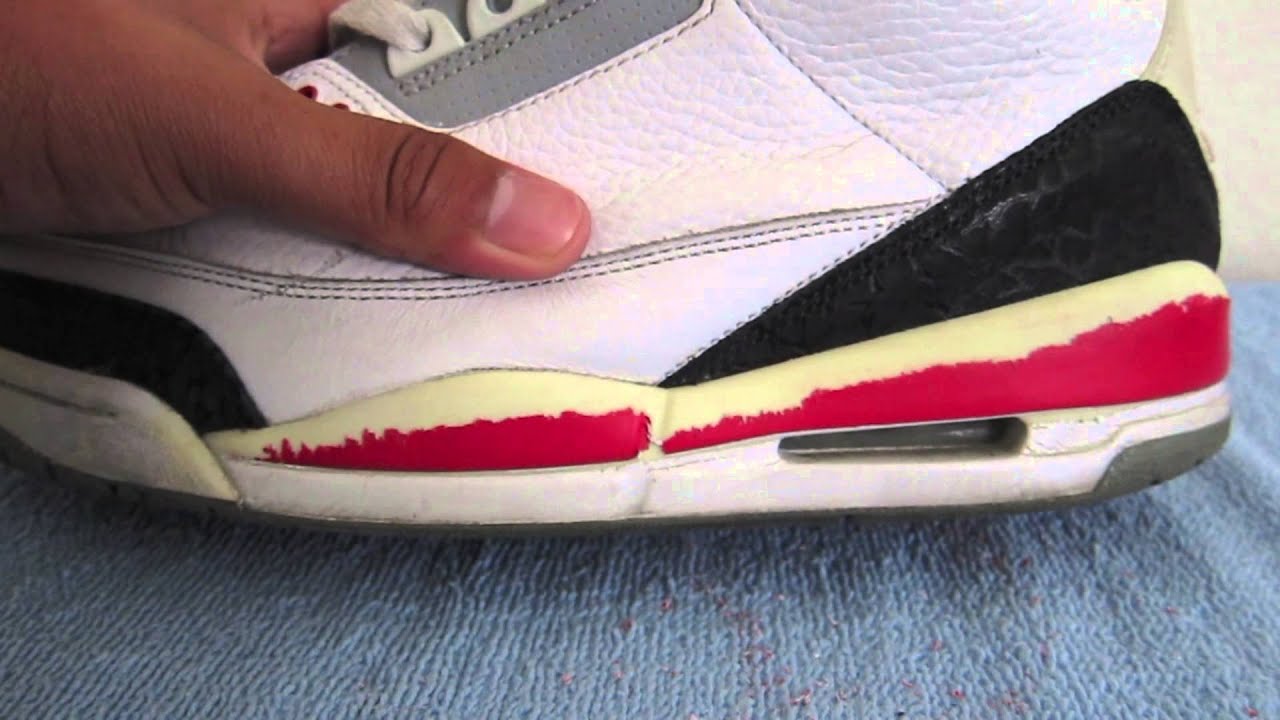 Using mineral spirit is another great and easy way to remove paint stain from your shoes. It does not have any smell, and it is comparatively more refined than acetone. You clean acetone for cleaning floors and paintbrushes as well.
The things which are required for this procedure are:
A bottle of mineral spirits
Warm water
Toothbrush
A clean and dry cloth
The steps to follow:
For the first step, take a toothbrush with soft bristles and dip it in a bowl of warm water. Now slowly rub the toothbrush on your shoe, especially where the paint marks are more visible.
After you've softened the marks, you can use the mineral spirit. Take a clean and dry cloth and dampen it in mineral spirit.
Rub this cloth in a circular motion where the paint stains are visible. Continue with this process for about 1-2 minutes until the stains disappear. Remember to do it gently as it might damage your shoe. It will remove all the paint marks on your shoe in just a few minutes.
When following this method, remember to use the liquid in limited quantity since it is pure.
Using Citrus degreaser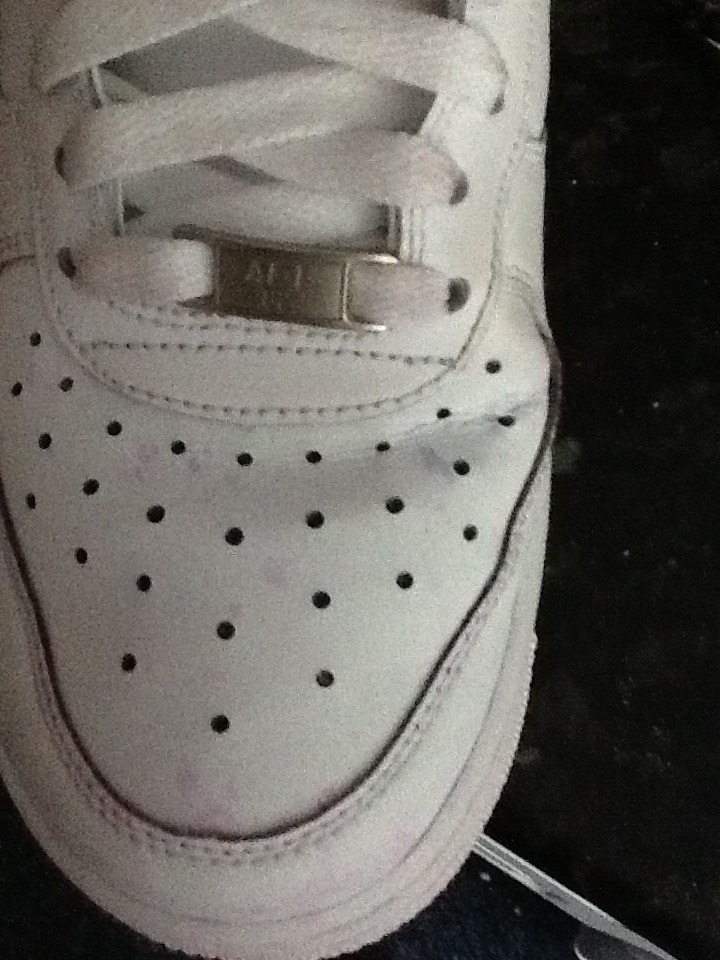 The final method in this article is by using a citrus degreaser. This liquid is mainly used for cleaning kitchen and home appliances. But it is also an excellent liquid for removing paint from your shoes.
The items required are:
A soft brush
Some dry cloth
Warm water
Citrus degreaser
The steps to be followed are:
Use a toothbrush and warm water to clean your shoes and remove as much dirt and stains as possible.
Once you are done with the first step, use a clean cloth and dampen it with a citrus degreaser.
Now rub this cloth on your shoe where the stains are more visible.
Rub until the paint mark disappears
Once the stains are gone, you can wash your shoes with warm water and leave it for drying in a cool and dry place
Conclusion:
These are some of the few methods which can effectively remove paint stains from your favorite shoe. Remember to take all the necessary precautions so that you don't damage your shoes. Follow the steps precisely, and you will have your shoe looking good as new in no time.