The iconic boots normally made of a special kind of leather that ensures longer life of these boots. A high-quality leather called nubuck leather is used to manufacture these boots, which are relatively durable and long-lasting. This material gives Timberland boots a classy and vintage look that makes it very popular among people of different ages.
This specific type of leather boots requires less maintenance than other types of leather boots. But you need to follow some methods to retain the excellent condition of your boots. Some special care from your end is required to keep the Timberland's bright yellow color.
Basic Arrangements You Will Need
There are some basic arrangements you will need to clean the Timberland boots.
Boot Brush and Suede Brush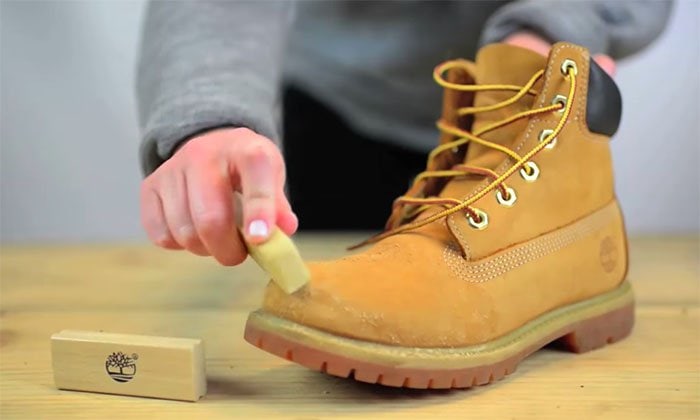 You need to arrange a soft boot brush and suede to clean your Timberland boots. These brushes will help you to remove the dirt from the boots. You can easily get these brushes from a nearby market or shoe store.
Mild Washing Liquid
Special kind of washing liquid is available in the market as well as online that helps to clean such boots. You can purchase theses liquids that will make your work faster and more effective. No robust chemical solution is there in such washing liquids that can damage your boots.
Waterproofing Spray
There are two types of spray available in the market, depending on the fabric of your boots- suede or leather. These sprays contain compounds that prevent Timberland boots from soaking the water. This particular spray is a very effective process that enhances the water resistivity of your boots.
Shoe Wipes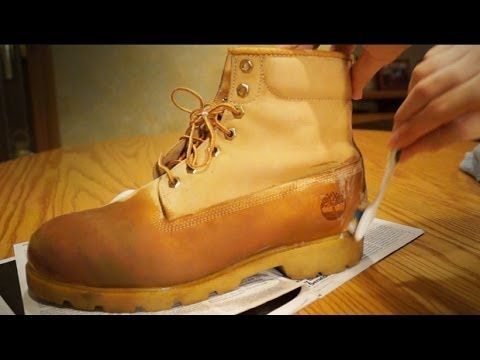 Shoe wipes are used to remove the dirt and grime from your shoes and make it long-lasting. You just need to swab it on your boots to dirt particles and also absorb the moisture. Sometimes people use a warm washcloth instead of using shoe wipes.
Timberland Cleaning Spray
This is the official product of Timberland that is available in both online and offline stores. The price of the product is reasonable and helps to clean your boots easily. To keep your boots clean and long-lasting, you can purchase this product at an affordable price.
Methods to Clean Timberland Boots
There are a few steps you need to follow in cleaning your Timberland boots.
Removing Small Spots
You need a brush to remove the small spots from your Timberland boots.
At first, you just need to rub your boots gently with a brush for some time. In this process, you have to remove debris as much as you can. You should keep in mind that you need to use a soft brush for this process.
Then you just grab a pencil with an eraser on the top and softly rub on your boots. You can use the Timberland cleaning bar also instead of a pencil eraser. This will help to remove the scuff marks from your Timberland boots and retain the looks of your boots.
Process Of Deep Cleaning
After removing the small spots, you need to perform a deep cleaning of your Timberland boots.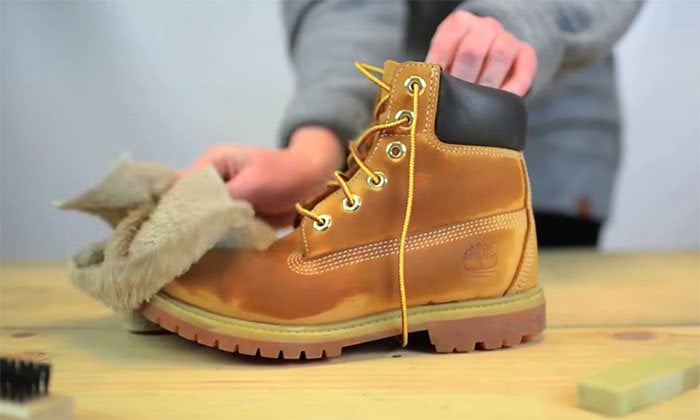 At first, you should remove shoelaces from your boots to avoid discoloration. Then again, you need to brush up your boots with a soft-bristle brush. You can purchase the nubuck cleaning products from official websites or offline store.
You can scrub your boots with a brush after applying a mild soap solution. This process will completely remove dirt particles and debris from your boots. Rinse the rubber soles of Timberland boots softly and clean up all the dirt.
Then you can apply the nubuck cleaner along with a small amount of water. Apply the cleaner outside the boot and gently rub it with a soft-bristle brush. You can use sandpaper to remove the remaining dirt particles.
Then after removing all the dirt particles and debris, use a small amount of water on your boots. This will remove the residue of the nubuck cleaner and the soap solution. Be careful about the amount of water you are applying.
Drying The Boots
After the deep cleaning, you have to care about the process of drying. It is a difficult process to dry your wet shoes. There are several steps you need to follow.
To keep your boots in shape, you need to apply a simple method to dry your Timberland boots. First, collect old newspapers as much as you can. Then wrap your boots entirely with the old newspaper and left it for a few hours.
The newspapers will soak the moisture completely from your boots. The process of drying leather boots may require a whole day that is 24 hours. Try to avoid keeping your boots very close to any high heat source.
After drying your boots completely, you just need to buff your boots gently. You will need a soft-bristle brush for this process. Use the brush on the surface of your boots lightly in one direction.
At last, you need to pick a conditioner and apply it on the surface of the boot. You can purchase a nubuck sealer to apply on your Timberland boots. This product will increase the water resistivity of your boots and keep safe from moisture.
Common Mistakes To Avoid
There are some common mistakes that we used to do while cleaning Timberland boots. Certain mistakes we should avoid in this procedure.
The amount of water you are applying in the in-depth cleaning process should be very less as we know that water is a vital enemy of leather products. Therefore we should apply water as per requirement.
Sometimes we use strong detergent to wash our boots. This will leads to discoloration of the Timberland boots.
As we already discussed that we need to avoid high heat sources. And do not place the boots very close to the source as it can ruin your boots.
Always remove the shoelace before washing it and drying it. The area below the shoelace can produce discoloration of that region.
Therefore these basic methods we need to follow to maintain the excellent condition of Timberland boots. Try to purchase the suitable cleaning products from offline or online stores to retain the bright color of your boots.