It is impossible to make sure that your shoes remain fresh as new no matter how hard you try. You are bound to splash on a puddle, drop some red wine, or simply step on mud! When it comes to faux shoes, the maintenance and cleaning require some special attention.
What is Faux Shoes
While real suede or leather shoes are made from the inner side of the animal hide and are then processed to give it a soft and velvety look, the deal with faux leather is a little different. While it mimics the velvety softness and gloss of real leather, it is much more durable and is not made of animal skin. It is offered at a much lower price and is the perfect choice for those with a vegan lifestyle as it does not incorporate anything from an animal.
Maintaining Faux Suede Shoes
While these shoes come with a plethora of advantages, they do tend to get soiled quite easily. Although it is made from a human-made material, caring for these are much similar to caring for the real deal. One of the essential pieces of equipment that you need to clean and care for your faux shoes are suede brush that will help you to remove dust and dirt from within the fabric while keeping the soft and raised. Follow these simple steps to care for your shoes:
Make sure the shoes are dry. If you brush on a wet or damp shoe, it will inevitably spread the dirt everywhere.
With the help of the suede brush, start brushing from the bottom and work your way up. Use one with nylon bristles for the best results.
If you do not have a suede brush, a toothbrush will work just fine but will take more time.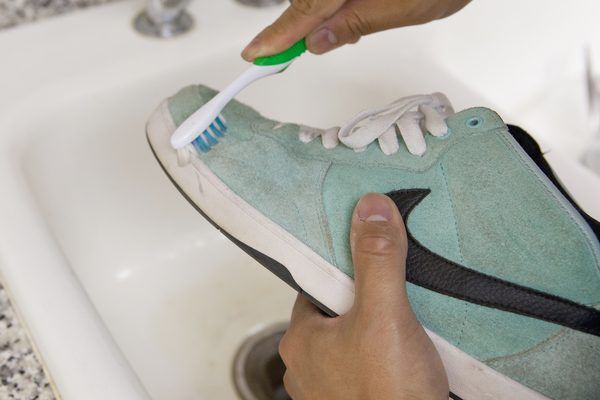 Spot Cleaning Faux Suede Shoes
Sometimes a suede brush may not just make the cut if your stains are stubborn. In this case, you will need more tools from your drawer. For this purpose, you will need a suede stain remover and the suede brush. After you have gotten this done, here are the steps to be followed:
First and foremost, brush your shoes thoroughly to get rid of any dirt or debris on the shoe.
The suede stain remover is like a pen mark remover and works just in that manner. All you have to do is gently rub it on and over the stain.
Keep rubbing, not it on the stain until the stain is gone.
Now, raise the fibers again using your suede brush.
Make sure that the remover eraser you are using is clean and tidy; otherwise, you will be spreading the stain even more. Also, make sure to be very gentle when using the eraser; otherwise, you may harm the material.
Cleaning Your Faux Suede Shoes All Over
If you have been avoiding cleaning for your shoes for a long while or if you have had a terrible day, it is now time for you to go for an all-over clean up for your shoes. When you want to clean your shoes all over, it is not possible to get your job done simply with the help of a suede brush or a suede eraser. You will need more complicated products for restoring your shoes. The products that you will have to use to clean your shoes overall are suede brush, faux suede cleaner, cotton cloths, sponge, and cold water. Here are the steps that you will have to follow:
Like before, the first step in this process is to clean all the dirt and debris from your shoes so that they don't smear all over the shoe later on. Like before, make sure that you do not do this while the shoe is wet or damp. Keep it in the sun to dry if this is the case.
With your clean cloth, dampen it in cold water and wring it well, so it is relatively wet but not soaking wet.
With the damp cloth, it is now time for you to dampen your shoes. In doing so, always start from the top to the bottom. Dampen your shoes evenly likewise.
Next, take the sponge and dampen it with the cold water. Make sure to wring it out well so that it is not soaking wet.
Take the faux suede cleaner now and put a little bit of the product on the sponge.
Now rub the cleaner throughout the shoes. Make sure that you start from the top and continue toward the end. You have to be gentle while doing this.
Cover the entire shoe with the cleaner to avoid any ugly watermarks.
Now, dampen another cloth with water and use this fresh damp cloth to wipe off the cleaner after having giving it enough time to sit. Don't saturate your shoes in this process.
Now let your shoes air dry for as long as it needs. This may take up to 24 hours, so be patient.
Once your shoes are completely dry, brush them with the suede brush to raise the fibers again.
Make sure your sponge is absolutely neat and clean before you apply the cleaner on it to prevent spreading this on to your shoes. If you still have some stubborn stain, you can use a stain remover pen to get the job done.
Home Remedy for Clean Shoes
Say you have to clean your shoes and need them right the next day but do not have a suede cleaner at home! There's nothing to worry about! You can still get clean shoes with the help of a few ingredients. The things you will need are cold water, a small bowl, a mild dishwashing soap, clean cloth, toothbrushes, and a suede brush. The steps are much similar to the previous, and you simply need to substitute the cleaner with the dishwasher.
Clean your faux suede shoes now for making the best first impression.