Clarks Boots are comfortable and stylish, their material and texture make them stand out from all the other brands. Plus, the Clarks Desert crepe-soled boots were worn by the British soldiers in WWII. 
But owning these boots can give you a hard time when it comes to cleaning. You must haven't cleaned them in ages, just because they are tough to clean. But, if they have started to look old and faded, it's high time to start taking care of them. 
But, most of us don't know how to clean them correctly. Hence, they avoid doing it at all. If you are one of them, then you should read this article. As we will discuss how to clean Clarks Desert Boots which consists of two different materials, suede and beeswax leather. 
Read below for details!
Helpful Ways To Clean Clarks Desert Boots
Till now, you might be hesitant to clean your boots due to the fear of ruining them. It's completely fine to not know the correct way to clean them. But now, you're here make sure to read it till the end as we'll discuss different methods and products that are safe to use on suede on beeswax leather.
For Suede Boots
Cleaning the Clarks Desert Suede boots has the same way as cleaning regular suede shoes. However, you will need to be extra cautious so that you don't squash the nap.
Method 1: Suede Brush For Suede Boots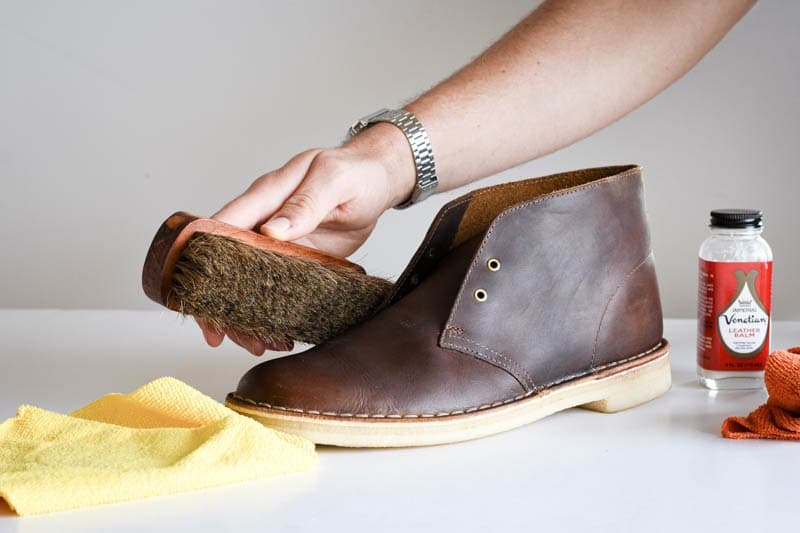 For this method, you will need:
a suede brush
an old newspaper
a butter knife
Using A suede brush regularly will keep your suede boots from fading and will help to maintain the original color of the boots. If you leave the boots in the dirt for too long, your boots will fade out faster because the dirt and dust accumulate faster in suede material leading to wear and tear of the boots as well.
Cleaning Procedure
It's not much of a hassle to clean the Suede boots with the help of the brush. If you have the above materials, you can easily perform the task. 
Spread an old newspaper on the ground, to catch the dirt from the shoes that will fall on the floor.  

The next step is to start using the suede brush to remove dust dirt and other debris from the shoes. It is advised that you brush in the same direction throughout.

The butter knife is an optional piece of equipment as it will be useful to clean some persistent stains or marks on the shoes. 

Gently scrape off the dirty area with the butter knife, without damaging the upper layer. 

After you've scraped the tough debris from the shoes, use the brush again to get rid of the stain.
Expert Advice:
 A silicone spray suede boots act as a great protective coating from harsh conditions. The spray repels water and dirt, leaving your shoes in a good condition for a long time. 
If you went in the mud wearing suede boots, wait for them to dry. It is easier to remove dry mud with the help of the brush. Otherwise brushing them while wet can leave irremovable stains. 
Benefits
The suede brush makes cleaning easy and swiftly 

It Does a great job with stains

A suede brush is an inexpensive option
Drawbacks
Doesn't remove tough stains completely
Method 2: Using a Suede Eraser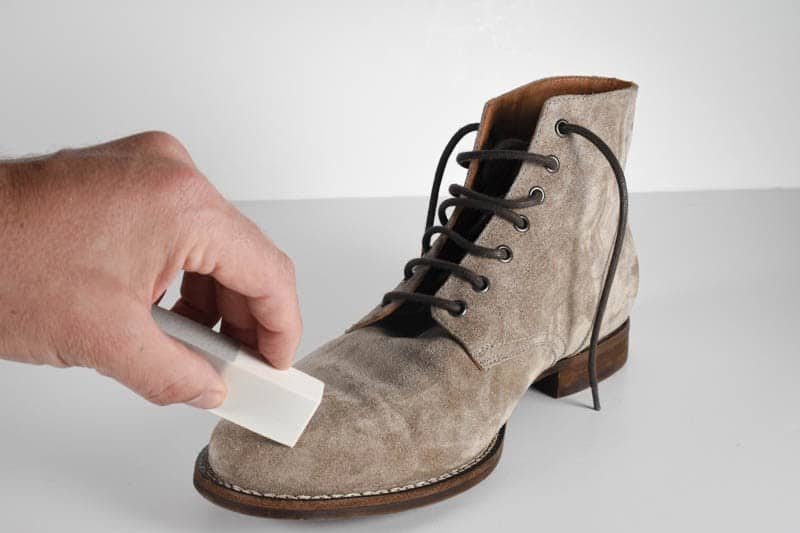 After removing all the possible dirt with the help of a brush, you can use the suede eraser to rub the scuffs and tough marks if needed. Most of the time suede brush doesn't only do the job so an eraser is a good option. 
Next, you may use a suede brush again to get rid of the debris from the eraser… These special erasers are a helpful tool to get rid of tough stains and marks and are highly recommended. 
If you don't wish to buy a suede eraser, try rubbing a normal eraser on the suede. This works in some cases too. 
Expert Advice: Applying a small amount of vinegar will help dissolve the stains if the scuffs, stains, or marks are tougher for the both; eraser and the suede brush
Benefits of Using a Suede Eraser
What's not possible with a suede brush, the eraser will do the job of removing most marks, scuffs, and stains
Suede erasers are inexpensive and last long
Drawbacks
They don't work for water stains
Other Methods For Cleaning Suede Boots
There are several types of boots that have different soles like synthetic soles or crepe soles. If that's the case, read below to find out how can you take care of them
Does Crepe Sole Need A lot of Care?
Natural crepe soles provide loose comfort in the most natural way to stand or walk. They are quieter to walk in and pretty durable. However, the open-pored design becomes slowly dirty over time. 
It is okay to have a little bit of dust and dirt on your shoes. You cannot expect the shoes to be completely clean every time you walk on such paths. These soles are a reflection of the long dusty paths we have taken in the boots. Hence, it is safe to say that the soles cannot and should not be kept entirely perfect.
How to Clean a Natural Crepe Sole and Synthetic Sole
Just because the dusty sole reminds you of the journeys you've gone on, doesn't mean you shouldn't clean them ever. If you feel your white crepe soles or any other color are too dirty, the following hacks will help you get them in a good condition again. 
However, you shouldn't expect them to look as clean as a new pin or the same way when you bought them. But, these tricks will somewhat help you get the desired results.
1. Using A Grease-Removing Detergent
Use warm water along with colorless detergent and then carefully lather the sole using a sponge.
Use an old tooth brusher to remove the coarser dirt and wash off the excess using clean water.
Any details can be easily done with the help of a sponge using soft forth and back movements. You must be careful that the upper leather doesn't get damp.
Velour leather uppers or suede are really attractive when paired with crepe soles. If you want to keep them that way, you shouldn't apply a detergent on the upper leather section.
2. Using Curd Soap
The first step is to dampen the shoe using warm water before cleaning. 

Next, apply the curd soap directly on the sole and rub using a brush. You can also put the soap on the brush and do the process. 

Repeat the process from step 1
What To Keep In Mind While Cleaning The Crepe Soles?
Using solvents like turpentine, cleaning solvents or enamel removers will damage the sole. Since most of them are made from methanol or ethanol, it will reduce the durability of the shoes. 
Clarks boots are made of suede and Beeswax leather, so if the surface of the sole comes in contact with solvents it will cause irreversible damages. The surface will become sticky and as a result, more soil and dirt will be absorbed after using inappropriate products.
Method 3: Waterproofing The Boots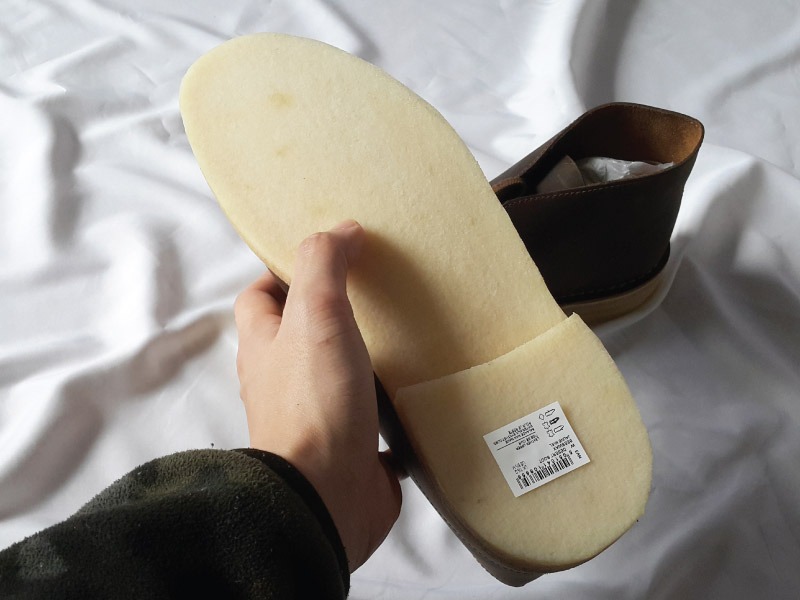 1. DYI Method
Water and suede shoes are a terrible combination and destroy the look of the boots. If you get a water stain on your shoes, brushing them won't help to get rid of the stains. What you can do is the following. And all you need is:
Two rags or towels.
water.
An old newspaper.
Procedure
Below are the easy steps you can follow to get rid of water stains:
Dip a rag or towel in water.
Wet your shoes using the rag or towel
Use another dry rag or towel to soak up any surplus water.
Roll newspaper into balls and fill up into your shoes.
Keep your shoes in a well-ventilated area, and get them dried out.
Expert Advice: if possible with exposure to sunlight will dry the shoes faster. Keeping the shoes in front of a heating vent will ruin the suede fabric.
If you get caught in a downpour, you may have to repeat this procedure more than once to get rid of water stains.
2. Using Sno Seal
If you don't have time to go through the process we mentioned above, you can try Sno Seal. But your boots must be clean from other stains before you apply this leather protector.
Sno Seal leather protector is cruelty-free and doesn't have oil grease. Instead, it is made from Beeswax that offers a protective layer on the shoe surface. It doesn't waterproof your suede boots but restores the original look and it improves the lifetime of the boots.
Sno seals can make the boots look slightly darker. To get an idea, you should first test the solution on a hidden area of the boot before applying it all around your pair.
2. Using Waterproofing Spray
Other than the Sno seal, there is also a waterproofing spray. Just the seal, your shoes must be clean before waterproofing spray. Spray the solution all over the clean boots. Perform this procedure in a well-ventilated area. As the sprays contain toxic chemicals that can irritate your air passage. Once the boots are dry, they are ready for the second application.
Benefits of waterproofing your boots
It improves the durability of shoes
The sprays are inexpensive products
Quick and easy to use
Drawbacks
The chemicals in the spray can cause some damage to the shoes.
Instead of cleaning, they can seal the stain if applied to unclean boots.
How To Clean Clarks Beeswax Leather Boots?
Apart from Clark's suede boots, beeswax leather boots also require proper cleaning. They are best treated with beeswax that gives them a shiny waterproof coating. Following are the details on how to do it.
Cleaning Procedure With Beeswax
Use a rag or a soft bristle brush to eliminate dust, debris, and dirt buildup on the surface of the boot.
Use another damp cloth to wipe the boots gently to remove the stains completely
Use a saddle soap for the boot if any tough stains remain.
After that, use a mild detergent to clean the sole. Only use a mild detergent on synthetic or crepe soles.
Keep the boots in a well-ventilated area to dry them off.
After performing the method, top off the cleaned boots with leather oil to nourish or restore the luster of the boots.
Ensure that you apply oil on dried Clarks desert boots. The leather oil can make your boots look slightly darker, so you shouldn't use too much of it.
Things to Be Careful of:
Saddle soap works best on beeswax leather but not on suede soap. Thus, Don't apply regular soap or detergent as it can damage and discolor your shoes.

Don't rub the Clarks' boots forcefully with a brush. Even if there is too much dirt build-up you use the brush gently at all times.

To avoid a mess around your house, place newspaper on the floor. If you are doing it outdoors on the grass, you can skip the newspaper. 

After cleaning the shoes properly, leave them in sunlight or a well-ventilated area. Don't leave them out in the sun for too long as the color will fade. 

Only use clean water for your boots. Dirty water can leave more stains. 

Always do a patch test on a conspicuous area before applying it on the whole boot.

Don't leave your boots dirt for too long as it can lead to dirt buildup.
Conclusion
After reading this guide, you may have a clear idea about how to clean desert boots. To keep your boots in a good condition for a long time, you need to keep them clean at all times and never leave them dirty. Whatever method you opt for, always be gentle and use the products according to the sole material.