We are all in the search for comfortable, stylish, and affordable shoes to wear. Clarks desert boots are top-quality shoes that are both stylish and functional. These boots are comfortable, but you have to find the right Clarks desert boot sizes so that they can be the perfect fit.
These leather boots were designed by James Clark's grandson in the 1950s and had a crepe sole and a design that was based on what the British officers in the Second World War wore when they were off duty. The design of these boots is still the same today with different versions. These boots are available in different sizes for men women and children with different styles and width fittings. To ensure that these boots fit you comfortably, you have to have the right size, and if you aren't sure about your boot size, Clarks have a detailed sizing guide for their shoes and boots. All you have to do is enter your foot size measurements, and the rest of the details and Clarks will give you their recommended boot size for you.
Why are Clark's boots so good?
These boots are versatile, functional, and long-lasting and specially designed to give you comfort. These boots are designed for everyday wear and to provide you with fashionable and stylish shoes you can wear even to work. With innovative ideas and new technology, every shoe is manufactured to ensure that they meet the high standards expected by putting the health of your feet first over fashion and style. This doesn't mean that Clark's boots don't have cool styles for everyone. Some of the shoes available vary from the men's slip-on casual shoes to the lace-up women's black leather ankle boots.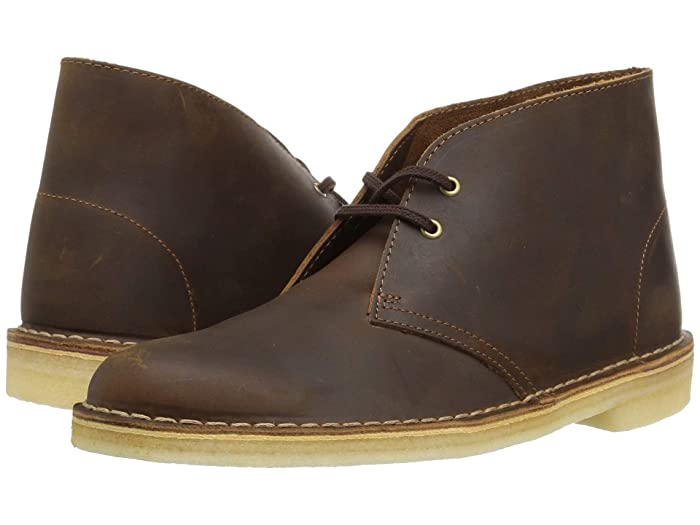 How to determine your Clarks desert boots sizing
While there are many ways of determining your boot size, you can carry out one of the simplest methods from the comfort of your home. Here are some of the steps you can follow.
Take a blank piece of white paper and place it on the floor.
Place one of your feet in the middle of the paper and make sure you've positioned it properly.
Take a pen and carefully trace your foot on the paper.
To mark your foot's length and width, make a line around the shoe to make it easier to determine how long and wide the right Clarks desert boots will be for you.
Take a ruler or a tape measure to measure the length of the width. Measure from your heel to the tip of your longest toe. However, some people may have a longer second or middle toe.
After taking the measurements, subtract 3/16 from the actual measurements so that you remove the space created by the outline to give you your actual foot size.
Now you can carry these measurements to get your right fitting boots.
You could also visit a shoe store to get your feet measured by one of the staff.
When you go to fit your new boots, take some time to walk around in them to give you a better feel of how it would be when walking in them. If you wear socks with your boots, which is a personal preference, it can help to keep your feet comfortable and dry.
Factors that will help determine how well your Clarks desert boots fit.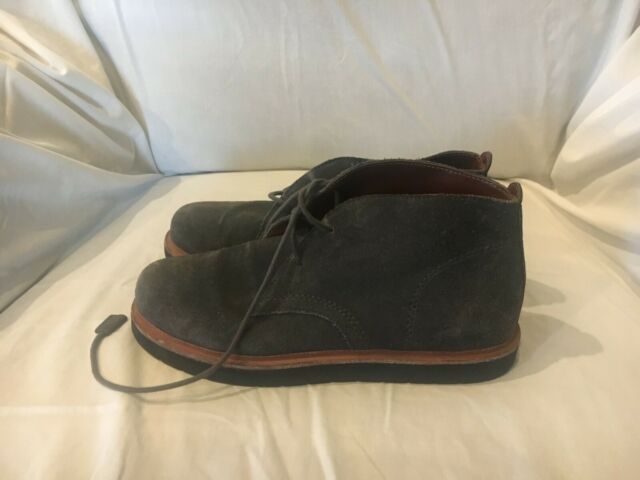 Socks.
In this case, you should consider how thick the socks are to help you choose the most comfortable boots. The thickness of the socks can affect how the boots fit you.
Insoles.
If you require extra heel support, you can use a removable insole that will have a tight fit and will be more comfortable. Ensure that you put the insoles in the boots before you try them on. Orthotics are used by people who need extra support. To accommodate these inserts in your boots, you might want to get a half size bigger.
Enough space.
Before you pick the right boots, lace them up and take them for a test drive around the store to ensure they flex at the balls of your feet, and there is enough toe room to move around. Your toes shouldn't hit the front of the boots or feel pinched by the sides of your boots.
Heel comfort.
Make sure that your heels are comfortable and that they don't slide out when you're walking.
Time of day.
Your feet tend to get bigger at the end of the day from all the walking around all day. This is the best time to try out different boots sizes to get your right fit.
Are Clarks shoes true to size?
Keep in mind that although boots can stretch a little after wearing them for some time, this is minimal, so don't buy tight boots expecting them to get bigger. Don't assume that all boots have the same sizes because some Clarks desert boots are true to size while other tend to be a half size smaller, so the best way to get your true Clarks desert boots size for your feet is to try your normal size than a half size down to see which one is more comfortable. That's why it's advisable to get the correct measurements for your feet to avoid foot issues like bunions, blisters, corns, and hammertoes.
What is the width of Clark's shoes?
Clarks shoe is well known for their shoe types and styles and provide you with large, small, narrow, and wide shoes that will suit every type of feet from children to adults. Women and children have four width options to choose from that include standard, narrow, wide, and extra-wide fittings. For men have three width sizes to choose from that include standard, narrow, and wide fittings.
Conclusion
Clarks desert boots are versatile boots to have in your wardrobe. You can wear them all year round, and you can dress them up or down with any attire you like. Make sure you get the correct fitting from the various Clarks desert boots sizes to ensure you're comfortable when walking.