You may have bought an excellent pair of uggs to prepare yourself for the colder and rainy days. However, the big question is, are your uggs waterproof or snow proof? The answer to this depends solely on the material of your uggs.
Uggs are a classic when it comes to keeping your feet warm and also being fashionable at the same time. These pairs of shoes never go out of style. While the suede and sheepskin materials keep your feet comfortable and warm, the synthetic soles prevent slips and provide an excellent grip.
There are different materials used in manufacturing uggs. While some uggs are naturally made waterproof, others are not really. Uggs such as snow boots or ugg rain boots, etc. are generally waterproof. However, the classic uggs are made of sheepskin or suede, and these types of uggs are not waterproof.
Even if your uggs are not water-resistant, there is nothing to worry about. You can easily make them waterproof at the comfort of your own home without much hassle.
Why should you waterproof your uggs?
Suede uggs are prone to stains. This type of leather is softer and smoother as compared to other hard leathers. Thus, they can easily get stained by water and dirt. If water penetrates through your uggs, then you may notice your uggs to have some bad odor.
And also, it leads to further damage and decreases the durability of your uggs. Not only that, but stains on your uggs make them less appealing. Thus, you need to waterproof your uggs as soon as you purchase them. By doing so, you can protect your uggs from unwanted staining and also make them last longer.
Here are the methods to follow for waterproofing your uggs:
Cleaning dirt from your uggs:
Before getting started with the waterproofing work, make sure that your uggs are completely clean and dry. You can remove and dust off the dirt with the help of a suede brush.
These are the steps to clean your uggs:
First, make sure that your boots are entirely dry before cleaning them.
Take the suede brush and gently brush your uggs in a single direction for removing all the dirt.
If there are extra scuffs, you can remove them off by brushing in both directions – back and forth.
Cleaning existing water stains and marks: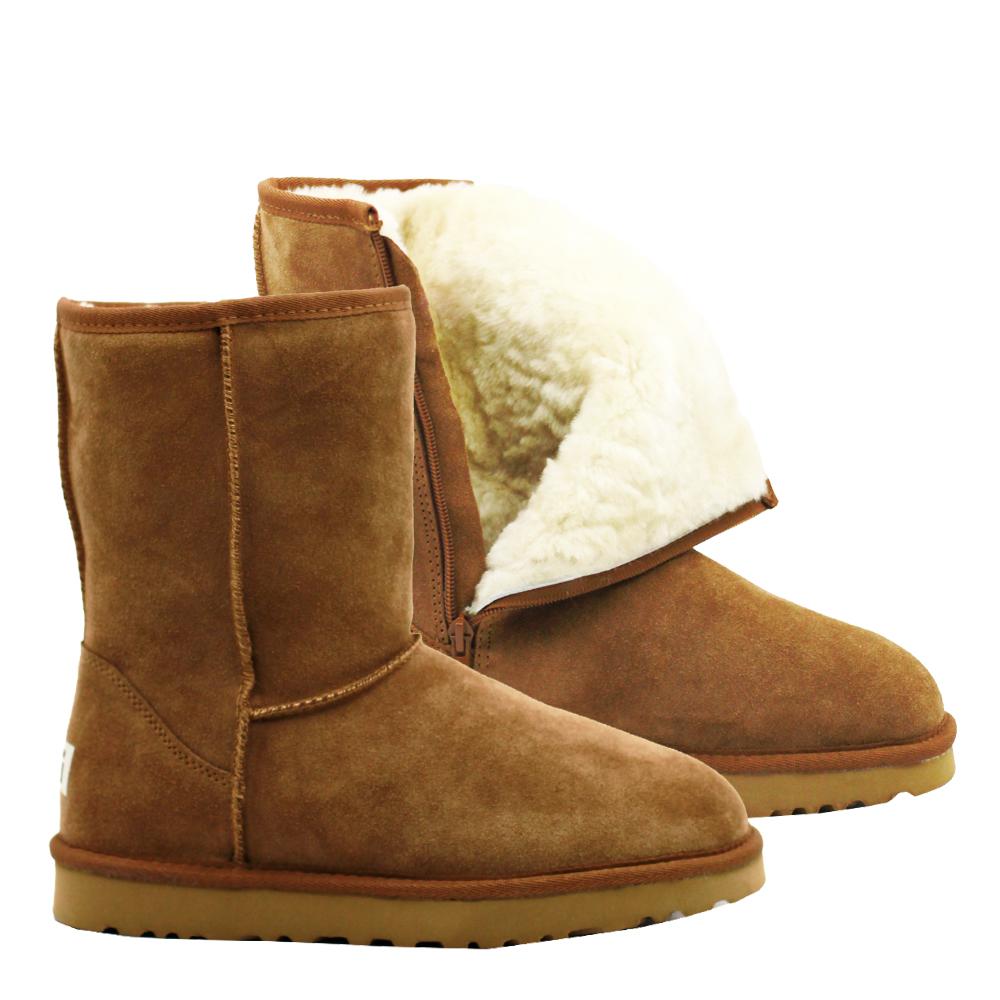 If your uggs have already been stained, then this step is a crucial one to follow. You must remove all existing water stains before waterproofing your uggs. You can do this with the help of a suede cleaner. Suede cleaners are readily available in any local stores or online.
Materials you need for this step:
Suede cleaner and brush
Sponge and a clean cloth
Coldwater
The steps you need to follow:
Brush your uggs with the suede brush in a single direction.
Dampen the clean cloth in cold water and wring it off.
Then, wipe the surface of the uggs with the damp cloth. Make sure to wipe and damp the entire uggs evenly.
Next, soak the sponge in cold water and wring it. Put on a tiny quantity of suede cleaner into the sponge.
Wipe the entire uggs with the cleaner. Gently work the cleaner into the uggs. Make sure not to rub your uggs harshly as it may cause unwanted damages.
Put on some more cleaner if you feel like it is not enough to cover the entire uggs.
After this, wipe off any excess cleaner with a clean wet cloth. Make sure not to over-wet your uggs.
Finally, you can stuff in some papers or tissues in its interiors to hold the shape while keeping it away from drying. Do not keep them near any heat source, rather keep them away to air dry for up to 48 hours.
Methods for Waterproofing your Uggs: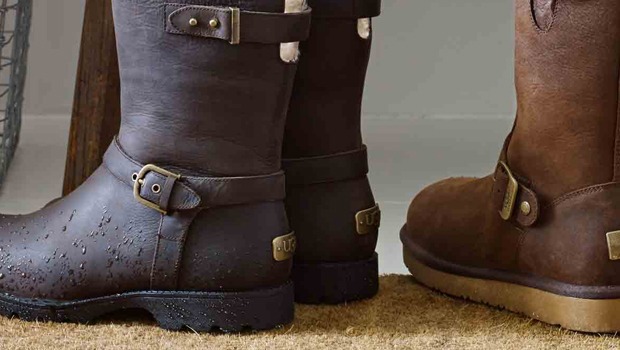 Once your uggs are completely clean and dry, you can start the process of waterproofing them. For a newly bought pair of uggs, you can directly start with this process right after taking them off the box. However, if your uggs have already been used, you need to follow the cleaning processes first.
Materials you need:
Suede brush
Waterproof and stain repellents sprays
Steps you need to follow:
Brush off any remaining dirt and dust with the suede brush.
Take the water repellent spray and spray it evenly all over the surface of your uggs. Make sure to hold the sprayer about 6 to 8 inches away while spraying. The boots need to be wet instead of being soaked. So be very careful while spraying.
After this, you can simply keep the uggs away to air dry. Keep it in an open space, away from heat.
Let it air dry for up to 24 hours. By this time, you can check your uggs and let it dry more if it is not completely dry.
Once your uggs are wholly dry, you can gently brush it with the suede brush for restoring the nap.
Some tips for maintaining your uggs:
Once you have waterproofed your uggs, you need to maintain the health of your uggs. Here are some of the essential tips you can follow to maintain your uggs:
Do not place your uggs under direct sunlight or near any heat source. Keeping your uggs near a heat source will damage your uggs and also fade their colors.
Make sure to gently brush your uggs with a suede brush from time to time. In this way, you can keep your uggs clean and free from dirt. Do not use a hard brush as this may scratch the surface of your uggs.
After use, always make sure that your uggs are completely dry before storing them.
Conclusion:
Uggs can be your best friend in fighting off cold weather and keeping your feet warm. However, the durability and health of your uggs depend solely on the way you maintain them. So, make sure to follow the proper steps in taking care of your uggs, and it will surely go a long way.