Did you know that our foot is supposed to have an arch in the center and it must not be absolutely touching the ground? I bet most of you didn't know of it, but it's true! 20 -30% of the world's population falls under the category where they have a deformation in the feet. Normally, the fallen arches or the flat feet occur when the foot touches entirely to the ground. Thus, in these special circumstances, a question arises: Are Birkenstocks Good For Flat Feet? 
Before we jump on the section that decides whether these shoes are good or not, we have to gather some information regarding the deformity. Some people don't realize that they have had the condition since childhood and consider it normal while in some cases it can be a sign of wear and tear due to tough working conditions. 
Reasons Behind Being Flat-Footed
The main reason behind having flat feet is the underdevelopment of arches during childhood. This is a painless condition and is considered an abnormality. This particularly happens because of dislocated bone, alongside wear and tear stresses with growing age.
This condition can also be caused by nerve problems. Along with that, obesity, aging and diabetes can also result in flat feet. Not just that, but a damaged foot can also result in Posterior Tibial Tendon Dysfunction. 
As children grow up, their feet develop arches. However, some of them may not as there is a variation in foot type as well. Some people might not have it at the start but the arches can fall throughout the years if they have undergone tough working conditions.
Issues Faced By Flat Footed People
● Hard to walk, stand or do physical activities like running
● Pain in ankles
● Can cause bunions, hammertoes, and shin splints.
● This leads to uneven distribution of body weight
Can Flat Feet Affect Body Balance?
People who are severely affected by this problem can face issues in their body balance. They might feel that their body is inclined towards one end. It is because fallen arches distribute the body weight unevenly. However, this problem is subtle and not very much noticeable. 
An imbalanced body can cause problems like breakdown and fatigue. Athletes with a flat fleet will be unable to transfer their body weight while playing. This is one of the reasons due to which flat-footed people are not allowed in the military. Nonetheless, some exercises can help in this regard. 
Is There Any Cure For Flat Feet?
It depends upon the type of flat feet. If they are flexible it can be cured, otherwise, it isn't possible. There are many exercises and stretching therapies that help to cure the condition in flexible variants. It will help to restore the leg's arch. 
In some cases, injections are also required but in the worst scenarios, surgeries are the last option. If you have to swell around the foot or feel pain, you can try rubbing ice or using a cold pack. 
Podiatrists have recommended Some general guidelines for people with flat feet. They should avoid playing sports like football, basketball, tennis or hockey. In simple words, flat-footed people should avoid activities that require putting pressure on their feet. 
Will Walking Barefoot Help Flat Feet?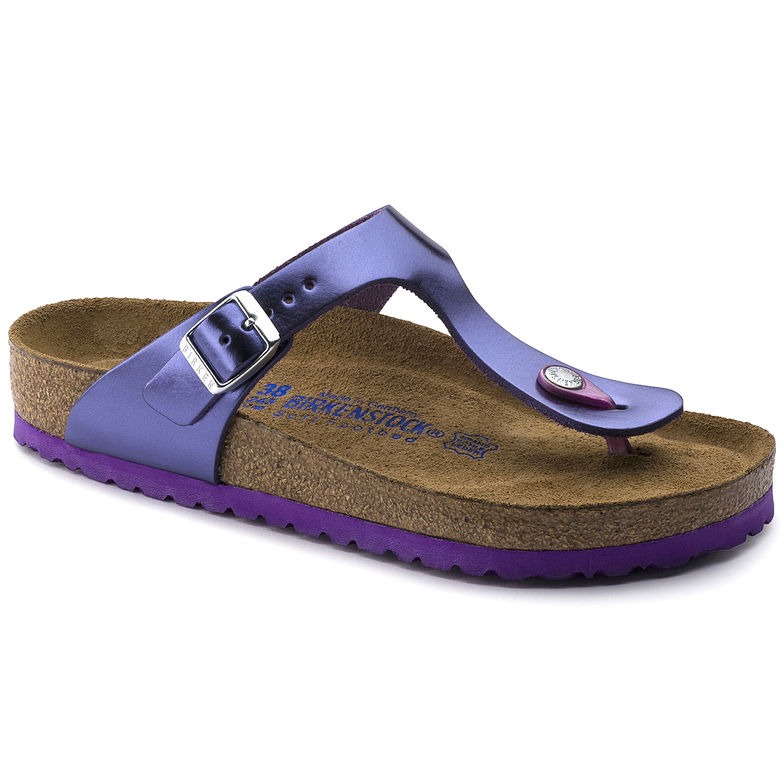 Till now, there isn't any research that shows a successful connection between walking barefoot and eliminating flat feet.
If you have a flexible flat foot it can strengthen the muscles in the heel but it won't correct the arch. However, infants should be left to walk barefooted. In this way, you will allow the foot to grow and the muscles will develop in the correct structure and develop normally.
Does Exercise Help Get Rid Of Flat Feet?
You cannot exactly fix but treat your deformity with exercise. Some people may experience painful symptoms in their heels. Exercise helps in reducing them. Rolling a tennis or a golf ball can help reduce the pain. Plus, a frozen water bottle works too. You shouldn't play any rigorous sports or any tough physical activities as it does the opposite. 
Heel stretches, calf raises and arch lifts are effective exercises in such conditions. If you don't know how to do any of these, simply scrunch a towel with your toes, it is an effective DYI too. But, you should consult a doctor before performing any of the exercises. 
What Are Birkenstocks?
Birkenstock is a renowned shoe brand of Germany that makes sandals with foot-hugging wood or rubber soles Birkenstock family is considered a long line of shoemakers in Germany and hence these sandals are named after it. The comfort and the simplicity of the Birkenstocks soon made their way around the globe. Birkenstock's sandals are widely known for their contoured cover and rubber footbeds.
Highlights Of Birkenstock's History
We cannot understand manufacturing unless we gain insight into where it started. In 1966 Margot Fraser, a dressmaker and designer went on a spa vacation in Germany. There she was inspired by the footwear and decided to bring it to the US market. 
The comfort of the sandals was what made her fall for them. After that, she contacted Karl Birkenstock to chat about trade-in these distinctive designs in the USA and started the distribution from San Francisco, California. This is how Birkenstocks made their way into the shoe business. 
At first, most people didn't catch up with the design in the US. After that, the Seventies came with a counterculture of "flower children" who portrayed turning back to nature. Birkenstocks after identifying the trend reached the rocket sky with their flower designs. As people being fond of nature started buying them and this is how Birkenstock made way to people's hearts. 
Another captivating feature was the natural-fitting sandal. These sandals were almost out of stock at health food stores. In 1986, they increased the manufacturing and were obtainable from high-end department stores like Nordstrom.
Why Are Birkenstocks Super Comfortable?
After reading till now you must think why are these sandals super comfortable? These are very different from ordinary sandals as they have four layers the constitute in making the sole and footbed,k including :
A Textured bottom that has a shock-absorbent sole

Two layers of stabilizing and moisture regulating jute-Perfect! 

A natural cork footbed great for both; cushioning and insulation 

A soft suede lining for the final touches and style.  
If some of you are searching for cruelty-free, vegan sandals, a patented material called Birko-Flor also exists. All the dyes used are purely obtained from vegetable sources. 
To reduce waste, the corks are made from leftovers from cork plugs. Birkenstock has created a good name when it comes to using top quality and renewable all-natural materials, acquired from sustainable sources.
What About Its Fitting?
You want to try these sandals because they are comfortable but what about their fitting? Do these sandals fit you tightly or do they have a loose grip? 
It depends on your comfort level and how you like the fitting. The sandals come with an adjustable belt so, if you like them loose or tight, you can adjust using the belt. 
Generally, you should have a perfect grip near the toe, for that the closest strap should be a little tight. The rest of the straps can be a little loose so that it uplifts your heel to a proper height. Besides, the front straps never wear Birkenstocks with a tight strap as you won't feel comfortable in them. 
Are Birkenstocks a Good Option for Any Feet?
People who have an ideal arch-shaped foot can easily wear these sandals as it is good in providing support to the feet arch and keeping them elevated accurately. Besides that, it will keep you in good health. The making of the toe bar ensures that your toe naturally has a perfect grip on the sandals. 
Health Benefits
Distributes the weight properly throughout the body.
Provides better stability.
Accurate arch support reduces heel pain
It maintains the perfect balance.
Helps in proper blood regulations.
These sandals ensure the exact alignment of the spine and legs.
Are Birkenstocks Help Reduce Fallen Arches?
All in all, Birkenstocks indeed make a perfect choice for people with a perfect arch. But, are they even a good pick for flat feet people as well? 
Yes, these sandals are perfect for such deformities too. Birkenstocks have footbeds that deliver premium arch support which includes both; lateral and metatarsal arch support. Since it has ample arch support, it also prevents injuries and aids in recovery.  
What is The Break-In Period for Birkenstocks?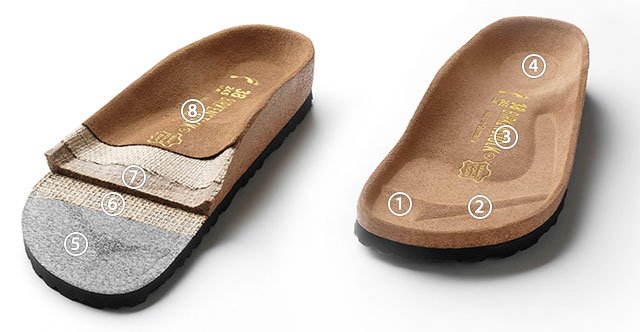 Birkenstocks at most take a couple of weeks to break in. The cork footbed with time will adjust with the shape of your foot. The process may be a bit time consuming, but definitely worth it in the end:
Pick the right size for yourself. Getting the wrong size won't be helpful if you expect breaking-in 

Unlock all of the belts from the sandals 

Loosen up the cork by bending the shoe a few times.

Place your foot on the footbed in a way that secures the heel part. 

Keep a suitable gap between the strap and your foot to wiggle your toes inside

Walk around the house to see if it's a perfect fit. If they touch the footbed, you need a wider size.

Keep the shoes on for at least 30 to 45 minutes every day. They must not be hurt in this period. 

Increase the time up to an hour or two before taking them off.

Follow this process for a fortnight, and you are going to make it!
How To Break In Birkenstocks Quicker?
Normally, it would take 2-3 weeks to break in a pair of shoes. You can cut this period a week to ten days by following the tricks below:
Wear them more frequently and walk in them every day so that the cork quickly takes the shape of your feet. The softer the footbed, the faster process. 

Try soaking the sandals in water 

Taps your shoe a few times with a hammer, but don't smash it 

Using a hairdryer on medium heat while wearing the socks can get things done quickly. 
Are Birkenstocks Good For Long Walks?
You can wear Birkenstocks on long walks but there is no way you can use them as hiking shoes, they are appropriate for urban exploration only. 
For example, you come across a bumpy train that is difficult to handle. The cork footbed will provide ample cushioning to your feet along with firm arch sustenance as you walk.
Hence, Birkenstocks are a good option for long periods and city walks but not for uphill areas.
Is it Okay to Wear Birkenstocks To The Beach?
Yes! Birkenstocks are a perfect option to wear on a sunny day at the beach. These sandals have supportive and lightweight materials on sandy beaches without discomfort.
Birkenstocks have come up with a new line known as "Essentials". They are made with waterproof EVA material instead of suede. Additionally, it will keep your feet sweat and odor-free. Match with any of your swimsuits as they are available in various colors.
Tips To Take Care Of Birkenstocks?
Everybody wants their pair of shoes to last long. For this reason, we have made a list of all the possible things you can do to take care of your shoes so that they last long:
Keep your sandals away from concentrated heat and extreme temperatures 

Except for the water-friendly EVA models, don't immerse the Birks in water. If they get wet, the sealant will wear out quickly

Buy a cork sealer as it protects the cork from drying out

A cleaner and refresher are manufactured for the footbed to keep the shoes fresh. Spray the cleaner on the footbed to enhance longevity 

Use a Nubuck/ Suede brush to clean the footbed and restore the nap. 
Final Words
Being flat-footed naturally isn't something to be ashamed of. There are plenty of people who live a normal life with this condition. With the help of proper boots and sandals, you can easily move around. And with the Birks, your flexible flat feet can also enjoy a life of comfort.