Introduction
When it comes to footwear for professionals, often we overlook how extraneous it can get for our feet. Teachers, nurses, nursing students, cooks, etc. – people who spend a good amount of their time on their feet, standing, and walking – need shoes that are built for support. Another essential aspect of such footwear is to provide the necessary comfort levels that are required for these jobs. Unfortunately, many professional workers are prone to musculoskeletal disorders as a result of the nature of their work. Medical science studies show that the risks for such issues can be lowered by wearing shoes with relatively low heel heights and extra arch support to minimize foot pressure and impact force.
Two of the most famous work shoe brands that cater to support and comfort are Alegria and Dansko shoes. Each of these brands has its features, advantages, and disadvantages. If you are wondering which of the two is better suited for your needs, here is an in-depth comparison between them.
About Alegria Shoes
Alegria shoes are manufactured by PG Lite®, a Californian shoe manufacturer. Over a decade, they have developed quite a reputation in comfortable and classy shoes. The company's primary focus has always been to provide its customer base with lightweight yet sturdy footwear. Also, their breathable sandals, flexible clogs, and soft-cushioned, trendy casuals have managed to mark their niche, unparalleled by any, in the world of footwear.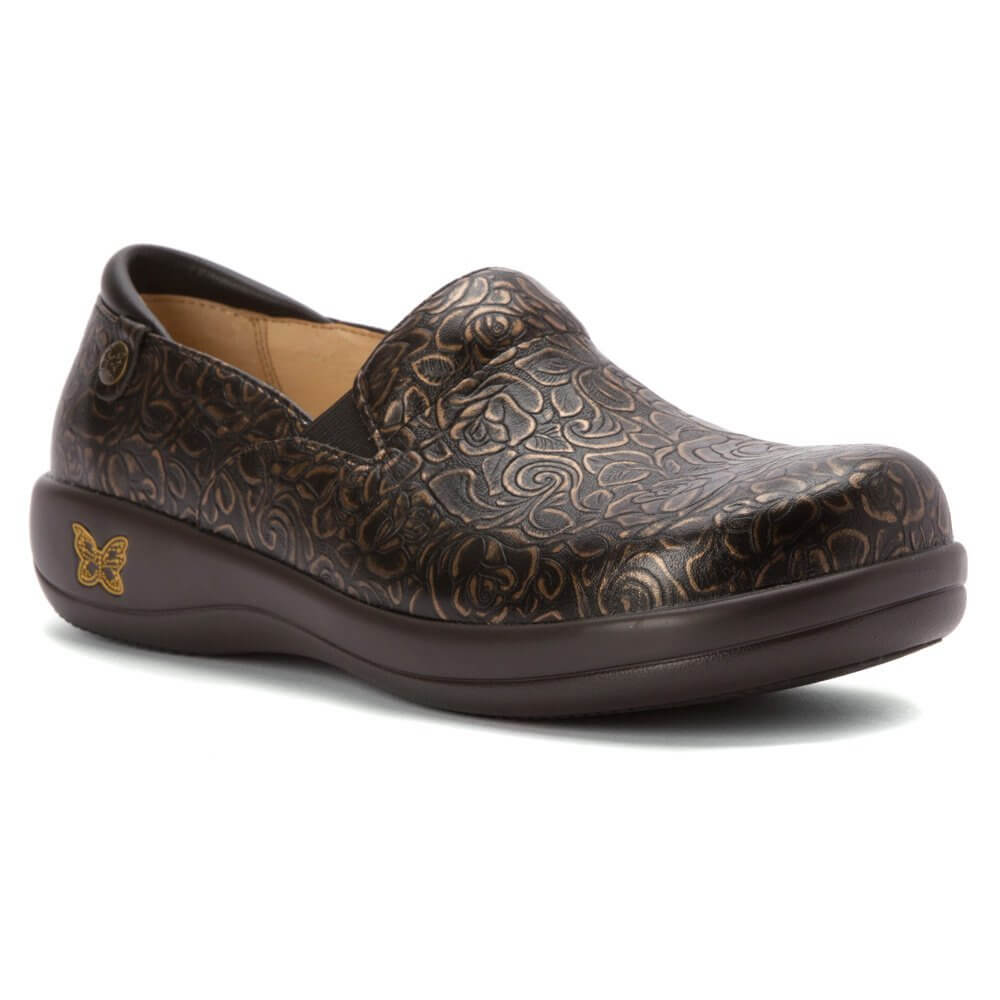 About Dansko Shoes
Dansko shoes started as a family business in Denmark in 1990. Since then, they have relocated to the United States, and have their production based in China. Mostly known for their clog shoes, Dansko also dabbles in making casual shoes, boots, and sandals. Their contoured arch support is another prominent feature they are well-known for. Dansko shoes are also popular for their eco-friendly and ethical production measures.
Alegria versus Dansko Shoes
In the following paragraphs, we will take a look at the pros of having Alegria shoes, their cons, the advantages of having Dansko shoes, their disadvantages, and the common features that both brands offer.
Alegria Shoes: General Advantages
Alegria shoes have been known to provide their customers with products that have:
Uniquely attractive styles
Variety in colors
Removable synthetic soles
Leather-lined footbed
Memory foam
Layered outsoles
Lightweight
Nice arch support
Easier to slip into
Slip-resistant
Alegria Shoes: General tradeoffs
The disadvantageous features of Alegria shoes that are commonly reported are as follows:
Thin soles
Noisy to walk in
Short heel heights
Narrow on the toe box
Size problems for people with big feet
Dansko Shoes: General advantages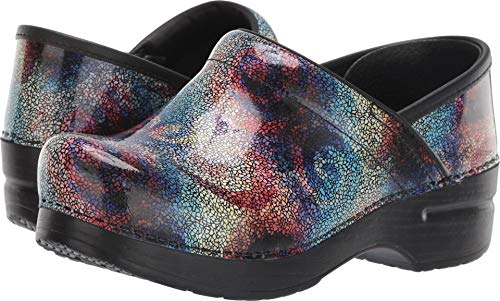 Dansko shoes have the following excellent features:
Quality and durability
Soft, hand-made cushioning
Excellent arch support
Breathable footbed
Long-lasting shoes
Provide wicking linings as an antiperspirant
Special stretch properties
Dansko Shoes: General tradeoffs
Dansko shoes have the following issues:
Need to be broken in; it might take a while for the shoes to settle according to your feet structure perfectly
Bulkier and more massive than Alegria
Expensive
Slippery soles
Hard upper material
Too narrow toe box for people with bigger feet
Common Features
Despite having an array of different features and benefits, both Alegria and Dansko shoes provide some common features:
High quality
Comfortable and cushioned
Shock absorption
Feet and body stability
Top Alegria and Dansko Bestsellers: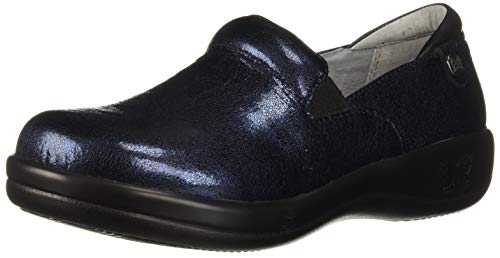 All Alegria shoes are made comfortable because of their three-layered sole: cork, memory foam, and Polyurethane layers. The one product that stands out among the variety in terms of comfort is undoubtedly Alegria Paloma Flats. This shoe has the softest body, making it more comfortable to wear and take off, as well as fit the shape of your foot perfectly. The insole is slip-resistant and provides excellent arch support. Nurses and medical staff members mostly prefer these. Other mentions from Alegria include Alegria Debra Slip-Ons, Alli Flats, and Classic Pro Shoes.
The best shoes from Dansko are Dansko Oxford Elise Sneaker, Pro XP Mule, Abigail Flats, and Celeste Slip-Ons. The one that is mostly raved about is called Dansko Professional Box Leather Clog. This clog helps people in the prevention of corns and foot bunions. It is ideal for people suffering from plantar fasciitis and tendonitis. It provides a foam footbed, leather lining for the absorption of foot sweat, and a sturdy grip heel for shock absorption.
So Which One is the Better Option?
The primary reason Alegrias came along and stole a huge chunk of Dansko's sales is primarily that in addition to forefoot rocker, Alegria shoes had softer soles. Dansko shoes still offer a rigid forefoot rocker to aid people with forefoot knuckle pain, so if you want comfort as a preference, you can try Alegria shoes. If you want more rigid shoes, and you happen to suffer from foot pain from standing for long periods, you should go for Dansko shoes.
Alegria shoes are synthetically manufactured within the US. This makes them cheaper. This, however, makes them less durable than their counterparts, so customers are often seen complaining about the replacement ordeals they have to go through every year. Dansko shoes are made in China, and they are made by hand. This makes them pricier than Alegrias. So if you want to go for a cheaper option, Alegria is your best bet. Otherwise, you can opt for Dansko shoes.
When it comes to choosing a pair for your unique situation, it is always recommended to try the shoes. Both brands offer a variety of features for different needs; it is up to you to figure out which ones fit perfectly for your needs.
In conclusion
Whether you go for Dansko or Alegria shoes, the primary thing to consider is your requirement and the level of comfort you want. Many people prefer Dansko shoes for being rigid; others prefer Alegrias because of their soft, replaceable soles. Even if you are just going to buy professional shoes for casual wear, try to go for the footwear that maximizes your comfort and helps in maintaining your posture.